Spring Mounting for Bus Bodies
2nd May 1947
Page 54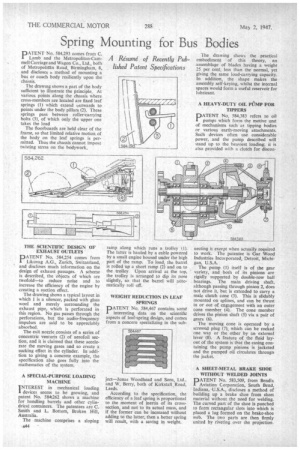 Page 54, 2nd May 1947 —
Spring Mounting for Bus Bodies
Close
PATENT No. 584,293 comes from C. Lamb and the Metropolitan-Cammelt Carriage and Wagon Co., Ltd., both of Metropolitan Road, Birmingham, 8, and discloses a method of mounting a bus or coach body resiliently upon the chassis.
The drawing shows a part of the body sufficient to illustrate the principle. At various points along the chassis where cross-members are located are fixed leaf springs (1) which extend outwards to points under the body pillars (2). These springs pass between roller-carrying bolts (3), of which only the upper one takes the load The floorboards are held clear of the frame, so that limited relative motion of the body on the leaf springs is permitted. Thus the chassis cannot impose twisting stress on the bodywork.
THE SCIENTIFIC DESIGN OF EXHAUST OUTLETS
PATENT No. 584,254 comes from Likuvag A.G., Zurich, Switzerland, and discloses much information on the design of exhaust passages. A scheme is described, the objects of which are twofold—to reduce noise and to increase the efficiency of the engine by creating a suction effect.
The drawing shows a typical layout in which 1 is a silencer, packed with glass wool and merely surrounding the exhaust pipe, which is perforated in this region. No gas passes through the perforations, but the audio-frequency impulses are said to be appreciably absorbed.
The exit nozzle consists of a series of concentric venturis (2) of aerofoil section, and it is claimed that these accelerate the moving gases and so create a sucking effect in the cylinder. In addition to giving a concrete example, the specification also goes fully into the mathematics of the system.
A SPECIAL-PURPOSE LOADING MACHINE I NTEREST in mechanical loading devices seems to be growing, and patent No. 584262 shows a machine for handling barrels and other cylindrical containers. The patentees are C. Smith and L. Bottom, Broken Hill, Australia.
The machine comprises a sloping ramp along which runs a trolley (I). The latter is hauled by a cable powered by a small engine housed under the high part of the ramp. To load, the barrel is rolled up a short ramp (2) and on to the trolley. Upon arrival at the top, the trolley is arranged to dip its nose slightly, so that the barrel will automatically roll off.
WEIGHT REDUCTION IN LEAF SPRINGS
PATENT No. 584,467 contains some interesting data on the scientific aspects of leaf-spring design, and comes from a concern specializing in the sub ject—Jonas Woodhead and Sons, Ltd., and W. Berry, both of Kirkstall,Road, Leeds.
According to the specification, the efficiency of a leaf spring is proportional to the moment of inertia of its crosssection, and not to its actual mass, and if the former can be increased without adding to the latter, then a better spring will result, with a saving in weight. The drawing shows the practical
A Résumé of Recently Pubembodiment of this theory, an