assemblage of blades having a weight assemblage of blades having a weight
2nd May 1947
Page 54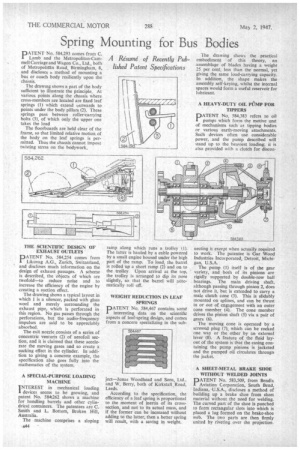 Page 54, 2nd May 1947 —
assemblage of blades having a weight assemblage of blades having a weight
Close
lished Patent Specifications 25 per cent, less than the normal, yet giving the same load-carrying capacity. In addition, the shape makes the assembly self-keying, whilst the internal spaces would form a useful reservoir for lubricant.
A HEAVY-DUTY OIL Pi.)MP FOR TIPPERS
PATENT No, 584,383 refers to oil pumps which form the motive unit of mechanisms such as tipping Niches or various earth-moving attachments. Such devices often use considerable power, and the pump described will stand up to the heaviest loading; it is also provided with a clutch for discoa
necting it except when actually required to work. The patentee is Gar Wood Industries Incolporated, Detroit, Michigan, U.S.A.
The pump (1) itself is of the gear variety, and both of its pinions are rigidly supported by double-row ball bearings. The main driving shaft, although passing through pinion 2, does not drive it, but is extended to carry a male clutch cone (3). This is slidably mounted on splines, and can be thrust in or out of engagement with an outer cone member (4). The cone member drives the pinion shaft (5) via a pair of gears (6).
The moving cone is operated by a screwed plug (7), which can be rocked one way or the other by an external lever (8). A feature of the fluid layout of the system is that the casing containing the pump pinions is jacketed and the pumped oil circulates through the jacket.
A SHEET-METAL BRAKE SHOE WITHOUT WELDED JOINTS
PATENT No. 583,509, from Bendix Aviation Corporation, South Bend, Indiana, U.S.A., discloses a method of building up a brake shoe from sheet material without the need for welding. The curved part of the shoe is punched to form rectangular slots into which is placed a lug formed on the brake-shoe web. The two parts are then firmly united by riveting over the projection.