Planning Increases Haulage Capacity
2nd May 1947
Page 49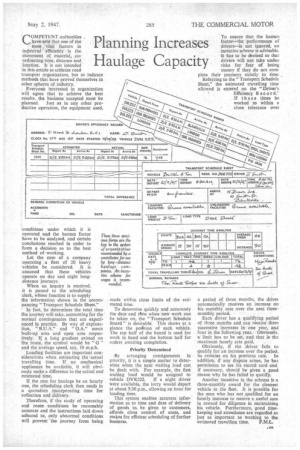 Page 49, 2nd May 1947 —
Planning Increases Haulage Capacity
Close
ar—IOMPEI ENT authorities
have said that one of the most 'Vital factors in industrial " 'efficiency is the movement of material, coordinating time, distance and location. It is not intended in this article to criticize road transport organization, but to indicate methods that have proved themselves in other spheres of industry.
Everyone interested in organization w ill agree that to achieve the best results, the business accepted must be
planned. Just as in any other productive operation, the equipment used,
.conditions under which it is operated and the human factor have to be analysed, and certain conclusions reached in order to form a decision as to the best method of working.
Let the case of a company operating . a fleet of 20 heavy vehicles be considered. It is assumed that these vehicles operate on day and night longdistance journeys, When an inquiry is received, it is passed to the scheduling 'clerk, whose function is to supply the information shown in the accompanying " Transport Schedule Sheet."
In fact, he determines the total time The journeY will take, accounting for the normal contingencies that are experienced in practice. By way of explanation, " BAJA." and " 0.A." mean built-up area and open area respectively. If a long gradient existed on the route, the symbol would be "G " and the average speed, say, 10 m.p.h.
Loading facilities are important considerations when estimating the actual travelling time. If no mechanical appliances be available, it will obviously make a difference to the actual and estimated time.
If the rate for haulage be an hourly one, the scheduling clerk then sends in a quotation incorporating time for collection and delivery.
Therefore, if the study of operating and route conditions be reasonably accurate and the instructions laid down adhered to, only abnormal conditions will prevent the journey from being
made within close limits of the estimated. time.
To determine quiCkly and accurately the date and tie when new work can be taken on, the "Transport Schedule Board" is desirable. This shows at a glance the potion of each vehicle. The top half of the board is used for work in hand and the bottom half for orders awaiting completion.
Priority Determined By arranging consignments in priority, it is a simple matter to determine when the next waiting load can be dealt with. For example, the first waiting load would be assigned to vehicle DVR222. If a night driver were available, the lorry would depart at about 9.30 p.m., allowing an hour for loading time.
This system enables accurate information as to time and date of delivery of goods to be given to customers, affords close control of costs, and makes for efficient scheduling of further business.
To ensure that the human factor—the performance of drivers—is not ignored, an incentive scheme is advisable. It-has to be devised SO that drivers will not take undue risks for fear of losing money if they do not complete their journeys strictly to time..
Referring to the " Transport Schedule Sheet," the estimated travelling time allowed is entered on the "Driver's Efficiency Record. If these times be worked to within a close tolerance over a period of three months, the driver automatically receives an increase on his monthly rate over the next threemonthly period.
Each driver has a qualifying period of three months and can receive three successive increases in one year, and four in the following year. Obviously, a limit has to be set, and that is the maximum hourly rate paid.
Obviously, if the driver fails to qualify for an increase over the period, he remains on his previous rate. In addition, if any dispute arises, he has permission to see his record card and. if necessary, should be given a good reason why he has failed to qualify.
Another incentive in the scheme is a three-monthly award for the cleanest vehicle in the fleet. It is possible for the man who has not qualified for an hourly increase to receive a useful sum in reward for diligence in maintaining his vehicle. Furthermore, good timekeeping and attendance are regarded as just as important as working to the estimated travelling time.