Mobile Cinema with Arc Illumination
2nd May 1947
Page 32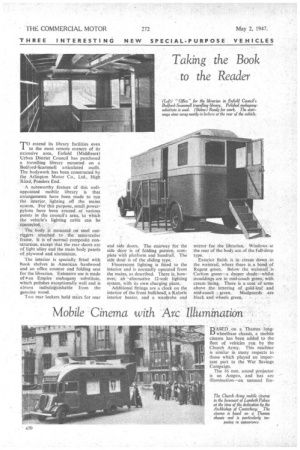 Page 33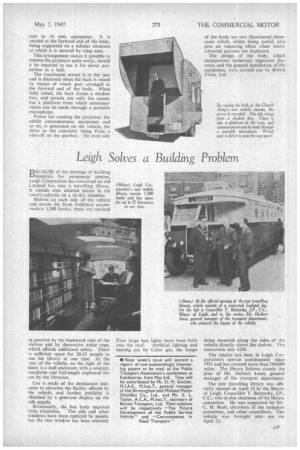 Page 32, 2nd May 1947 —
Mobile Cinema with Arc Illumination
Close
B'ASED on a Thames longwheelbase chassis, a mobile cinema has been added to the fleet of vehicles run by the Church Army. This machine is similar in many respects to those which played an important part in the War Savings Campaign.
The 16 mm. sound projector is an Ampro, and has arc illumination—an unusual fea ture in 16 mm. equipment, it is carried at the forward end of the body, being supported on a tubular structure to which it is secured by wing nuts.
This arrangement makes it possible to remove the projector quite easily, should it be required to use it for direct projection in a hall.
The translucent screen is at the rear and is disclosed when the back is raised by means of winch gear arranged at the forward end of the body. When fully raised, the back forms a shadow box, and reveals not only the screen, but a platform from which announcements can be made through a portable microphone.
Power for running the projector, the public announcement equipment and so on, is generated on the vehicle, the drive to the converter being from a take-off on the gearbox. On each side of the body are two illuminated showcases which, whilst being useful, also give an imposing effect when multicoloured pictures are displayed.
The design of the body, which incorporates numerous ingenious features, and the general installation of the equipment, were carried out by British Films, Ltd.