Taking the Book
2nd May 1947
Page 32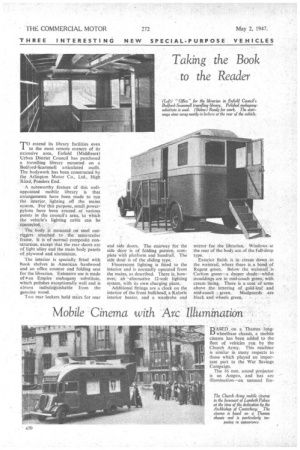 Page 32, 2nd May 1947 —
Taking the Book
Close
to the Reader
T°extend its library facilities even to the most remote corners of its extensive area, Enfield (Middlesex) Urban District Council has purchased a travelling library mounted on a Bedford-Scammell articulated outfit. The bodywork has been constructed by the Arlington Motor Co., Ltd., High Road, Ponders End.
A noteworthy feature of this wellappointed mobile library is that arrangements have been made to run the interior) lighting off the mains system. For this purpose, small .powerpylons have been erected at various points in the council's area, to which the vehicle's lighting cable can be connected.
The body is mounted on steel outriggers attached to the serni-trailer frame, it is of normal composite construction, except that the rear doors are of light alloy and the main body panels of plywood and, aluminium.
The interior is specially fitted with book shelves in American hardwood and an office counter and folding seat for the librarian. Extensive use is made of m an Empire mahogany substitute, which polishes exceptionally well and is almost indistinguishable from the genuine wood. • Two rear lockers hold stairs for rear and side doors. The stairway for the side door is of folding pattern, complete with platform and handrail. The side door is of the sliding type.
Fluorescent lighting is fitted to the interior and is normally operated from the mains, as described. There is, however, an alternative 12-volt lighting system, with its own charging plant.
Additional fittings are a clock on the interior of the front bulkhead, a Kaloric interior heater, and a wardrobe and mirror for the librarian. Windows at the rear of the body.are of the full-drop type.
Exterior finish is in cream down to the waistrail, where there is a band. of Regent green. Below the waistrail is Carlton green--a deeper shade—whilst mouldings are in mid-coach green, with cream lining. There is a coat of arms above the lettering of gold-leaf and mid-coach green. Mudguards are black and wheels green.