L.P.T.B.'S PART IN ANTIINVASION PLAN H AD invasion come in 1940,
2nd May 1947
Page 30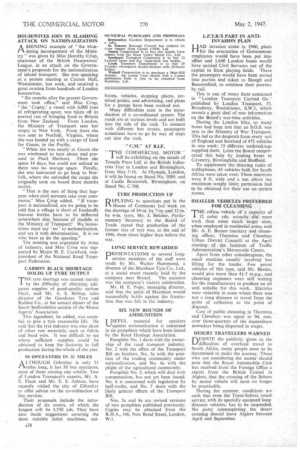 Page 30, 2nd May 1947 —
L.P.T.B.'S PART IN ANTIINVASION PLAN H AD invasion come in 1940,
Close
plans for the evacuation of Government employees would have been put into effect and 1,640 London buses would have carried Civil Servants out of the capital to Eton playing fields. There the passengers would have been sorted into parties and taken to Slough and Beaconsfield, to continue their journey by rail.
This is one of many facts contained in "London Transport Carried On," published by London Transport, 55, Broadway, Westminster, S.W.I, which reveals a great deal of new information on the Board's war-time activities.
During the London blitz, so many buses had been lost that an S.O.S. was sent to the Ministry of War Transport. This led to the despatch from every lart of England and Scotland of 472 vehicles in one week; 15 different undertakings supplied them. Later the Board reciprocated this help by lending buses to Coventry, Birmingtarn and Sheffield.
To supplement the thinning ranks of trolleybuses, 43 vehicles built for South Africa were taken over These macn:nes were 8 ft. wide and a ton above Me maximum weight limit; permission had to be obtained for their use on certain routes.
SMALLER VEHICLES PREFERRED FOR CLEANSING
THE refusevehicle of a capacity of 12 cubic yds. actually did more work than some much larger sizes, when employed in residential areas, said Mr. A. E. Barnes (sanitary and cleansing officer,Thornton -and Cleveleys Urbao District Council). at the April meeting of the Institute .of Traffic Adrnioistration's Merseyside Centre.
Apart from other considerapons, the small machine usually involved less lifting for the loader. Few petrol vehicles of this type, said Mr. Barnes, would give more than 4i-.5 m.p.g., and cleansing engineers were still waiting for the manufacturers to produce an oil unit suitable for this work. Electrics were valuable in cases where there was not a long distance to travel from the point of collection to the point of disposal.
Cost of public cleansing in Thornton and Cleveleys was equal to 9d. rate, over three-quarters of the expenditure nowadays being dispersed in wages.
DESERT TRAVELLERS WARNED
DESPITE the publicity given tothe -1-/difficulties of overland travel to South Africa, many people seem to be determined to make the journey. Those who are considering the matter should note that the Royal Automobile Club has received from the Foreign Office a .report from the British Consul in Algiers, that the crossing of the Sahara by motor vehicle will soon no longer be practicable.
During the summer, conditions are such that even the Trans-Sahara coach service, with its specially equipped longdistance vehicles, has to be suspended. No party contemplating the desert crossing should leave Algiers between April and September.