LICENSING POLICY MADE CLEAR
2nd May 1947
Page 27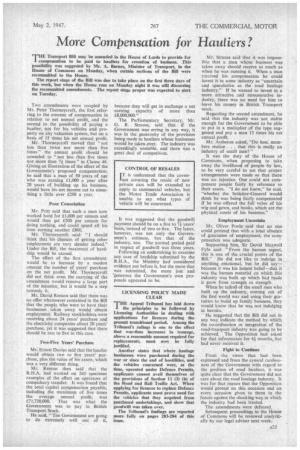 Page 27, 2nd May 1947 —
LICENSING POLICY MADE CLEAR
Close
'THE Appeal Tribunal has laid down I the principles to be followed by Licensing Authorities in dealing with applications for licences during the present transitional period. Among the Tribunal's rulings is one to the effect that war-time increases in tonnage, above a reasonable amount required for replacements, must now be fully justified.
Another states that where haulage businesses were purchased during the war or since the end of hostilities, and the vehicles concerned were, at the time, operated under Defence Permits, applicants cannot avail themselves of the provisions of Section 11 (3) (b) of the Road and Rail Traffic Act. When applying for licences to replace Defence Permits, applicants must prove need for the vehicles that they acquired from purchased undertakings, and show that goodwill was taken over.
The Tribunal's findings are reported more fully on pages 283-284 of this issue.