Passing Comments
2nd May 1947
Page 24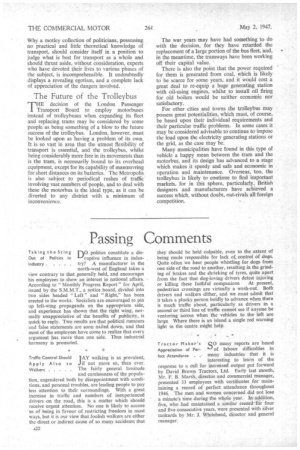 Page 25
Page 24, 2nd May 1947 —
Passing Comments
Close
DO politics constitute a dis
Industry . .
ruptive influence in industry? A manufacturer in the north-west of England takes a view contrary to that generally held, and encourages his employees to show an interest in national affairs. According to "Monthly Progress Report" for April, issued by the S.M.M.T., a notice board, divided into two sides headed " Left " and "Right," has been erected in the works. Socialists are encouraged to pin up left-wing propaganda on the appropriate side, and experience has shown that the right wing, normally unappreciative of the benefits of publicity, is quick to reply. Two results are that political rumours and false statements are soon nailed down, and that most of the employees have come to realize that every argument has more than one side. Thus industrial harmony is promoted.
Traffic Control Should TAY walking is as prevalent, Apply Also to J if not more so, than ever.
Walkers The fairly general lassitude and carelessness of the population, engendered both by disappointment with conditions, and personal troubles, are leading people to pay less attention to their surroundings. With a great increase in traffic and numbers of inexperienced drivers on the road, this is a matter which should receive urgent attention. No one is likely to accuse us of being in favour of restricting freedom in most ways, but it is our view that foolish walkers are either the direct or indirect cause of so many accidents that they should be held culpable, even to the extent of being made responsible for lack of control of dogs. Quite often we hear people whistling for dogs from one side of the road to another, resulting in the grinding of brakes and the shrieking of tyres, quite apart from the fact that dog-loving drivers detest injuring or killing these faithful companions At present, pedestrian crossings art virtually a wash-out. Both drivers and walkers dither, and we must admit that it takes a plucky person boldly to advance when there is much traffic about, particularly as drivers in a second or third line of traffic cannot see if anyone be venturing across when the vehicles to the left are large. Where there is an island a single red warning light in the Centre might help.
Tractor Maker's Ck0 many reports are heard Appreciation of Perl•-1 of labour difficulties in fect Attendance . , many industries that it is interesting to learn of the response to a call for increased output put forward by David Brown Tractors, Ltd. Early last month, Mr. F. B. Marsh, director and commercial manager, presented 33 employees with certificates for maintaining a record of perfect attendance throughout 1946. The men and women concerned did not lose a minute's time during the whole year. In addition, five, who had maintained a similar record fOr four and five consecutive years, were presented with silver tankards by Mr. I. Whitehead, director and general manager.
Keeping the Staff in Touch with Developments .
THE recent annual report of London Transport refers to the importance of cementing good relationships between management and employees. As a means to this end, "London Transport Magazine" made its appearance in April. It is intended for the Board's staff, and aims to keep employees in touch with the undertaking's activities, social and otherwise, and to promote co-operation. It is reproduced in photogravure and sets a high standard among house organs Two Small True nNE of our acquaintances Examples of the "-iin the industry mentioned Black Market . . to us the other day that he had purchased a new suit. We remarked that he was lucky to possess the coupons, upon which he said that he had bought them for
Is. 6d. each—the " proper " price. We expressed surprise and said that we knew of a woman who had purchased a number at 3s. 6d. each, whereat the man referred to assumed a horrified look and said, "That is sheer black market! " Another true incident con cerned an old-established West-end tailor. Upon receiving an order for a suit he said that he was going for a holiday, and, being rather short of petrol, would much prefer to have petrol than clothing coupons if it could be arranged. All this rationing and restriction seems to be making offenders of many persons otherwise of good repute.
West Riding Police WE have referred previously Show the Way to " to the good work being Safety performed by the West Riding Constabulary in promoting safety on the roads, and now comes an excellent publication entitled 'Safe Driving." It is written by Inspector Morton, who is the driving instructor of the Force. Its 46 pages are occupied by really practical matter, and not the least interesting feature is the large number of splendid illustrations throughout the book. To our minds, the course followed by the West Riding Police is far more likely to save lives than are the expensive campaigns run by the Ministry, of Transport..