Air rises in trailer suspension league
2nd March 1985
Page 48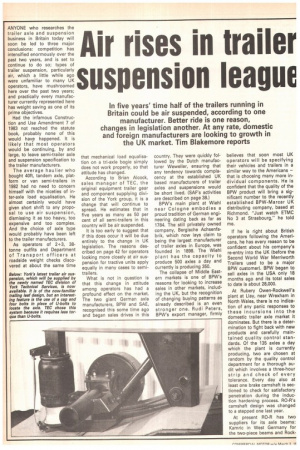 Page 49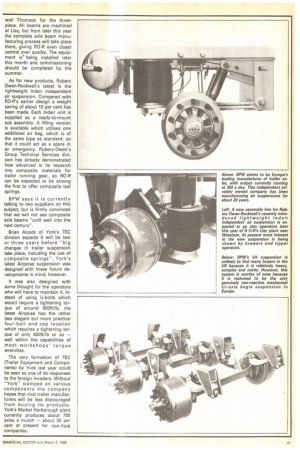 Page 48, 2nd March 1985 —
Air rises in trailer suspension league
Close
In five years' time half of the trailers running in Britain could be air suspended, according to one manufacturer. Better ride is one reason, changes in legislation another. At any rate, domestic and foreign manufacturers are looking to growth in the UK market. Tim Blakemore reports
ANYONE who researches the trailer axle and suspension business in Britain today will soon be led to three major conclusions: competition has intensified enormously over the past two years, and is set to continue to do so; types of trailer suspension, particularly air, which a little while ago were unfamiliar to many UK operators, have mushroomed here over the past two years; and practically every manufacturer currently represented here has weight saving as one of its prime objectives.
Had the infamous Construction and Use Amendment 7 of 1983 not reached the statute book, probably none of this would have happened. It is likely that most operators would be continuing, by and large, to leave semi-trailer axle and suspension specification to the trailer manufacturers.
The average haulier who bought 40ft, tandem axle, platform or van semi-trailers in 1982 had no need to concern himself with the niceties of inter-axle load equalisation. He almost certainly would have given short shrift to any proposal to use air suspension, dismissing it as too heavy, too expensive and too complex. And the choice of axle type would probably have been left to the trailer manufacturers.
As operators of 2+3, 38tonne outfits and Department of Transport officers at roadside weight checks discovered at about the same time
that mechanical load equalisation on a tri-axle bogie simply does not work properly, so that attitude has changed.
According to Brian Alcock, sales manager of TEC, the original equipment trailer gear and component supplying division of the York group, it is a change that will continue to spread. He estimates that in five years as many as 50 per cent of all semi-trailers in this country will be air suspended.
It is too early to suggest that if this does occur it will be due entirely to the change in UK legislation. The reasons described on page 42 for operators looking more closely at air suspension for tractive units apply equally in many cases to semitrailers.
What is not in question is that this change in attitude among operators has had a profound effect on the market. The two giant German axle manufacturers, BPW and SAE, recognised this some time ago and began sales drives in this country. They were quickly followed by the Dutch manufacturer Weweller, ensuring that any tendency towards complacency at the established UK based manufacturers of trailer axles and suspensions would be short lived. (SAF's activities are described on page 38.) BPW's main plant at Wiehl near Cologne embodies a proud tradition of German engineering dating back as far as 1784. The still privately owned company, Bergische Achsenfabrik, which now lays claim to being the largest manufacturer of trailer axles in Europe, was founded in 1898. The Wiehl plant has the capacity to produce 500 axles a day and currently is producing 350.
The collapse of Middle Eastern markets is one of BPW's reasons for looking to increase sales in other markets, including the UK, but the recognition of changing buying patterns as already described is an even stronger one. Rudi Peters, BPW's export manager, firmly believes that soon most UK operators will be specifying their vehicles and trailers in a similar way to the Americans — that is choosing many more individual components. He is confident that the quality of the BPW product will bring a significant number to the recently established BPW-Marcar UK distributing company, based at Richmond. "Just watch ETMC No 3 at Strasbourg," he told me.
If he is right about British operators following the Americans, he has every reason to be confident about his company's re-entry into the UK (before the Second World War Merriworth Trailers used to be a major BPW customer). BPW began to sell axles in the USA only 18 months ago and its total sales to date is about 28,000.
At Rubery Owen-Rockwell's plant at Llay, near Wrexham in North Wales, there is no indication of any panic responses to these incursions into the domestic trailer axle market it dominates. But there is a determination to fight back with new products and carefully maintained quality control standards. Of the 135 axles a day which the plant is currently producing, two are chosen at random by the quality control department for a thorough audit which involves a three-hour strip and check of every tolerance. Every day also at least one brake camshaft is sectioned to check for satisfactory penetration during the induction hardening process. RO-R's camshaft design was changed to a stepped one last year.
At present RO-R has two suppliers for its axle beams: Kamric in West Germany for the two-piece beams and Rock well Thomson for the threepiece. All beams are machined at Llay, but from later this year the complete axle beam manufacturing process will take place there, giving RO-R even closer control over quality. The equipment is being installed later this month and commissioning should be completed by the summer.
As for new products, Rubery Owen-Rockwell's latest is the lightweight Indair independent air suspension. Compared with RO-R's earlier design a weight saving of about 10 per cent has been made. Each lndair unit is supplied as a ready-to-mount sub assembly. A lifting version is available which utilises one additional air bag, which is of the same type as standard; so that it could act as a spare in an emergency. Rubery-Owen's Group Technical Services division has already demonstrated how advanced is its research into composite materials for trailer running gear, so RO-R can be expected to be among the first to offer composite leaf springs.
BPW says it is currently talking to two suppliers on this subject, but is firmly convinced that we will not see composite axle beams "until well into the next century".
Brian Alcock of York's TEC division expects it will be two or three years before "big changes in trailer suspension take place, including the use of composite springs". York's latest Airpoise suspension was designed with these future developments in mind, however.
It was also designed with some thought for the operators who will have to maintain it. Instead of using U-bolts which would require a tightening torque of around 600ft/lb, the latest Airpoise has the rather less elegant but more practical four-bolt and cap location which requires a tightening torque of only 400ft/lb or so — well within the capabilities of most workshops' torque wrenches.
The very formation of TEC (Trailer Equipment and Components) by York last year could be seen as one of its responses to the foreign invaders. Without "York" stamped on various components the company hopes that rival trailer manufacturers will be less discouraged from buying its products. York's Market Harborough plant currently produces about 700 axles a month — about 30 per cent at present for non-York companies.