Transport Restrictions By Which Create Waste "Tantalus"
2nd March 1945
Page 31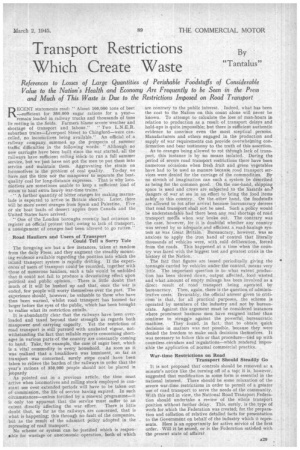 Page 31, 2nd March 1945 —
Transport Restrictions By Which Create Waste "Tantalus"
Close
References to Losses of Large Quantities of Perishable Foodstuffs of Considerable Value to the Nation's Health and Economy Are Frequently to be Seen in the• Press and Much of This Waste is Due to the Restrictions Imposed on Road Transport
RECENT statements read: " About 100,000 tons of beet --,-sufficient for 950,000 sugar rations for a year— remain loaded in railway trucks and thousands of tons lie rotting in the fields. Farmers blame severe weather and
shortage of transport and labour." "Two L.N.E.R. suburban trains—Liverpool Street to Chingford—were cancelled, no locomotives being available." An official of a railway company summed up the prospects of summer traffic difficulties in the following words: "Although no new carriages have been built since the war started, all the railways have sufficient rolling stock to run a full summer serisice, but we just have not got the men to put them into service and maintain' them. Aggravating the strain on
locomotives is the problem' of coal quality. To-day, we have not the time nor the -manpower to separate he bestqUality coal for long-distance expresses. That is why locoMotives are sometimes unable to keep a sufficient load of steam to haul extra heavy war-time -trains."
-" A further -quantity of bitter oranges for making marmalade if expected to arrive in Britain shortly. Later, there will be more sweet oranges from Spain and Palestine. Five or six' boat loads of dessert apples from Canada and the United States have arrived.
One of the London boroughs recently had occasion to register an official protest that, owing to lack of transport, a consignment of oranges had been allowed to go rotten."
• Road Hauliers and Users of Transport Could Tell a Sorry Tale The foregoing are but a few instances, taken at random from the daily Press, and they augment the steadily mounting evidence available regarding the position into which the inland transport system is rapidly drifting. If the experiences of users of transport could be recorded, together with those of numerous hauliers, such a tale would be unfolded that it could not fail to produce a devastating effect upon political and public opinion. There is little doubt that much of it will be hushed up and that, once the war is ended, few people will worry themselves over the past. The experience should, however, be valuable to those who have thus been warned, whilst road transport 'has loomed far larger before the eyes of the public, which has been brought to realize what its restriction entails.
It is-abundantly clear that the railways have been overloaded and taxed beyond their strength as regards both manpower and carrying capacity. • Yet the restriction of road transport is still .pursued with unabated vigour, notwithstanding the fact that reliable reports concerning shortages in various parts of the country are constantly coming to hand. Take, for example, the case of sugar beet, which is a vital commodity in every household. As soon as it was realized that a breakdown was imminent, so far as transport was concerned, surely steps could have been taken to relieve the burden of the railways in order that the year's rations of 350,000 people should not be placed in
jeopardy . As pointed out in a previous article, the time must arrive when locomotives and rolling stock employed in constant use over extended periods will have to be taken out of commission, the life of service having expired. In such circumstances—unless fortified by a renewal programme—it is only too apparent that the service must suffer to an extent directly affecting the war effort. There is little doubt that, so far as the railways are concerned, that is what is happening; this through no fault of the companies, -but as the result of the adamant policy adopted in the repressing of road transport. • No scheme or systeni can be justified which is responsible for wastage or uneconomic operation, both of which
are contrary -to the public interest. Indeed, what has been the cost to the Nation on this count alone will never be known. To attempt to calculate the loss of man-hours in relation to production as a result of transport delays and hold-ups is quite impossible;, but there is sufficient authentic evidence to convince even the most sceptical persons. Manufacturers and others engaged in the production and supply of war requirements can provide overwhelming confirmation and bear testimony to the truth of this assertion.
As to oranges being allowed to rot thtough lack of transport, this instance is by no means isolated., During the period Of severe road transport restrictions there have been numerous oecasions when fresh fruit and green vegetables have had to be used as manure because road transport services were edenied for the carriage of the commodities. By no stretch of imagination can such a system be described as being for the common good. On the one hand, shipping space is used and crews are subjected to the hazards an dangers of war at sea in an effort to bring the food items safely to this country., On the other. hand, the foodstuffs are allowed to rot after arrival because bureaucracy decrees that road transport shall nOt be used. Such a policy would be understandable had there been any real shortage of road transport meda when war broke out. The contrary was the case, however, for it is doubtful whether any country was served by so adequate and efficient a road-haulage system as was Great Britain.' Bureaucracy, however, was so anxious to apply the iron hand of control that literally thousands of vehicles were, with .cold deliberation, forced from the roads. This happened at a time 'when the country was faced with the biggest test and greatest crisis in the history of the Nation.
The fact that figures are issued periodically giving the tonnages carried by vehicles under the control, means very little. The iniportant question is to what extent _production has been slowed down, output affected, food wasted and what amount of'empty mileage has been involved as a direct result of road transport being operated by bureaucracy. Then, again, there is the question of administrative costs. Ihvariably, the official answer given to criticism'is that, for all practical purposes, the scheme is operated by members of the industry and not by bureaucrats. Against this argument must be considered instances where prominent business men have resigned 'rather than continue to struggle against the powerful_ bureaucratic
machine. They found, in fact, that to obtain quick decisions in matters was not possible, because they were denied the freedom to make such decisions themselves. It was necessary to follow this or that procedure—tied up with countless circulars and-regulations—which rendered impossible the application of normal commercial practice.
War-time Restrictions on Road Transport Should Steadily Go
It is not proposed that' controls should be removed at a minute's notice like the turning off of a tap; it is, however, suggested that modification in some form is essential in the national interest. There should be some relaxation of the severe war-time restrictions in order to permit of a greater use of road transport to serve the needs of the community. With this end in view, the National Road Transport Federation should undertake a review of the whole transport position without further delay. This, surely, is the type of work for, which the Federation was created; for the preparation and collation, of relative detailed facts for presentation to 'the Government on behalf of'the industry which it represents. Here is an opportunity for active service of the first order. Will it be seized, or is the Federation satisfied with the present state of affairs?