Personal Pars
2nd March 1945
Page 18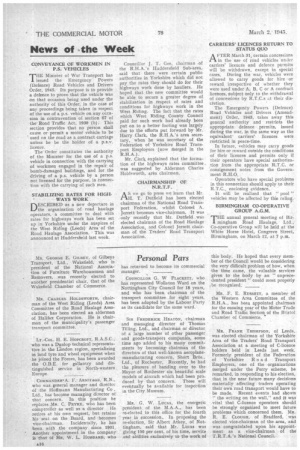 Page 18, 2nd March 1945 —
Personal Pars
Close
Keywords :
MR. GEORGE E. G1LBEY, of Gilbeys Transport, Ltd., Wakefield, who is president of the National Association of Furniture Warehousemen and Removers, was recently elected to another presidential chair, that of the Wakefield Chamber of COmmerce.
MR. CHARLES HOLDSWORTH, chairman of the West Riding (Leeds) Area Committee of the Road Haulage Association, has been elected an alderman of Halifax Corporation. He is chairman of the municipality's passenger transport committee.
LT . -COL. H. E. HOPCROFT, R.A.S.C., who was a Dunlop technical representative in the Condon region, specializing in land tyre and wheel equipment when
• he joined the Forces, has been awarded the O.B.E. for gallantry and distinguished service in North-western Europe.
. COMMANDER' A. F. AR &MAHE, -R.N" who was general manager and director of the Hoffmann Manufacturing Co , Ltd., has become managing director of that concern. In this position he replaces C. PRYKE, who has been comptroller as well as a director He retires at his own request, but retains his seat on the Board, and becomes vice-chairman. Incidentally, be has been with the company since 1901. Another appointment in the company is that of MR. W. L. Hui:maw:1, who
has returned to become its commercial manager.
COUNC1LL OR G. W FLACKETT , who has represented Wollaton Ward on the Nottingham City Council for 18 years, and who has been chairman of the transport committee for eight years, has been adopted by the Labour Party as its candidate for the same ward.
SIR FREDERICK HEATON, chairman and managing director of Thomas Tilling, Ltd., and chairman or director of a large number of other passenger and goods-transport -companies, some time ago added to his many Commitments by becoming chairman of the directors of that well-known aeroplanemanufacturing concern, Short Bros., Ltd., of Rochester. Recently, he had the pleasure of handina° over to the Mayor of Rochester six beautiful scale models of aircraft which had been produced by that concern. These will eventually be available for inspection in the City,Museum.
MR. G. W. LUCAS, the energetic president of the M.A.A., has been re-elected to this office for the fourth ' year in succession., In proposing the re-election, Sir Albert Atkey. of Nottingham, said that Mr. Lucas was giving 100 per cent, of his time, service and abilities exclusively to the work of
this body. He hoped that every member of the Council would be considering the very difficult problem of how; when the time came, the valuable services given to the body by an "unprecedented president" could most properly be recognized, MR. F. E. RussErr, a member of the Western Area Committee of the R.H.A., has been appointed chairman for the ensuing year of the Motor Trade and Road Traffic Section of the Bristol Chamber of Commerce,
MR. FRANK THOMPSON, of Leeds, was elected chairman of the Yorkshire Area of the Traders' Road Transport Association at a meeting of C-licence holders held in Leeds last week. Formerly president of the Federation of Yorkshire Road Transport Employers, one of the organizations merged under the Perry scheme, he remarked, in responding to his election, that in the near future many decisions materially affecting traders operating their own road transport would have to be made. Recent events had shown " the writing on the wall," and it was .vital that C-licence operators should be strongly organized to meet future problems which concerned them. MR. R. E. CLOUGH, of Bradford, was elected vice-chairman of the area, and was congratulated upon his appointment as a vice-chairman of the T.R.T.A.'s National Council.
Tags
Organisations
:
Federation of Yorkshire Road Transport Employers
,
Traders' Road Transport Association
,
Nottingham City Council
,
Bristol Chamber of Commerce
,
Labour Party
,
Western Area Committee
,
T.R.T.A.'s National Council
,
Road Haulage Association
,
Wakefield Chamber of COmmerce
,
National Association of Furniture Warehousemen and Removers
,
Area Committee