Optare launches Delta city bus
2nd June 1988
Page 21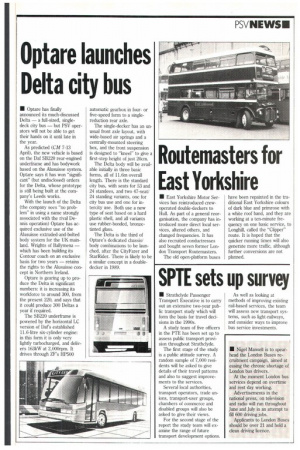 Page 21, 2nd June 1988 —
Optare launches Delta city bus
Close
• Optare has finally announced its much-discussed Delta — a full-sized, singledeck city bus — but PSV operators will not be able to get their hands on it until late in the year.
As predicted (CM 7-13 April), the new vehicle is based on the Daf SB220 rear-engined underframe and has bodywork based on the Alusuisse system. Optare says it has won "significant" (but undisclosed) orders for the Delta, whose prototype is still being built at the company's Leeds works.
With the launch of the Delta (the company sees "no problem" in using a name strongly associated with the rival Dennis operation) Optare has acquired exclusive use of the Alusuisse extruded-and-bolted body system for the UK mainland. Wrights of Ballymena — which has been building its Contour coach on an exclusive basis for two years — retains the rights to the Alusuisse concept in Northern Ireland.
Optare is gearing up to produce the Delta in significant numbers: it is increasing its workforce to around 300, from the present 220, and says that it could produce 300 Deltas a year if required.
The SB220 underframe is powered by the horizontal LC version of Dafs established 11.6-litre six-cylinder engine: in this form it is only very lightly turbocharged, and delivers 163kW at 2,000rpm. It drives through ZF's HP500 automatic gearbox in fouror five-speed form to a singlereduction rear axle.
The single-decker has an unusual front axle layout, with wide-based air springs and a centrally-mounted steering box, and the front suspension is designed to "kneel" to give a first-step height of just 20cm.
The Delta body will be available initially in three basic forms, all of 11.6m overall length. There is the standard city bus, with seats for 53 and 24 standees, and two 47-seat/ 24 standing variants, one for city bus use and one for intercity use. Both use a new type of seat based on a hard plastic shell, and all variants use rubber-bonded, bronzetinted glass.
The Delta is the third of Optare's dedicated chassis/ body combinations to be launched, after the CityFarer and StarRider. There is likely to be a similar concept in a doubledecker in 1989.