Scottish Newspapers Use Radio Vans
2nd July 1948
Page 76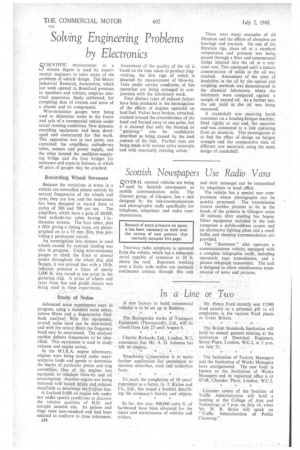 Page 76, 2nd July 1948 —
Scottish Newspapers Use Radio Vans
Close
SEVERAL unusual vehicles are being used by Scottish newspapers as mobile communication units. The Outram group, of Glasgow, has a unit designed by the tele-communications and photographic staffs specifically for telephone, teleprinter and radio communications.
, Two-way radio telephony is operated from the vehicle, which has a telescopic aerial capable of extension to 20 ft. above the roof. Reporters working over a fairly wide radius can maintain continuous contact through this unit and their messages can be transmitted by teleprinter to head office.
The vehicle has a special rear compartment where photographs can be quickly processed. The transmission system enables pictures to be in the hands of the printers in Glasgow some 10 minutes after sending has begun. Other equipment included in the unit comprises a public-address system and an alternative lighting plant and a small buffet and sleeping accommodation are provided.
The " Scotsman " also operates a communications vehicle, equipped with a complete telegraphic outfit, including automatic tape transmission, and a picture telegraph transmitter. The unit is designed to allow simultaneous transmission of news and pictures.