Operation Ship Shift is under way
2nd January 1970
Page 18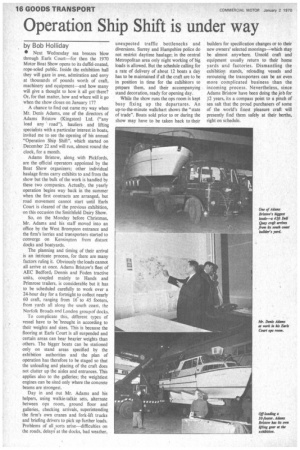 Page 18, 2nd January 1970 —
Operation Ship Shift is under way
Close
by Bob Holliday
• Next Wednesday sea breezes blow through Earls Court—for then the 1970 Motor Boat Show opens to its duffel-coated, rope-soled public. Inside the exhibition hall they will gaze in awe, admiration and envy at thousands of pounds worth of craft, machinery and equipment—and how many will give a thought to how it all got there? Or, for that matter, how and where will it go when the show closes on January 17?
A chance to find out came my way when Mr. Denis Adams, one of the directors of Adams Bristow (Kingston) Ltd. ("any load any ' road"), hauliers and lifting specialists with a particular interest in boats, invited me to see the opening of his annual "Operation Ship Shift", which started on December 22 and will run, almost round the clock, for a month.
Adams Bristow, along with Pickfords, are the official operators appointed by the Boat Show organizers; other individual haulage firms carry exhibits to and from the show but the bulk of the work is handled by these two companies. Actually, the yearly operation begins way back in the summer when the first contracts are arranged, but road movement cannot start until Earls Court is cleared of the previous exhibition, on this occasion the Smithfield Dairy Show.
So, on the Monday before Christmas, Mr. Adams and his staff moved into an office by the West Brompton entrance and the firm's lorries and transporters started to converge on Kensington from distant docks and boatyards.
The planning and timing of their arrival is an intricate process, for there are many factors ruling it. Obviously the loads cannot all arrive at once. Adams Bristow's fleet of AEC Bedford; Dennis and Foden tractive units, coupled mainly to Hands and Primrose trailers, is considerable but it has to be scheduled carefully to work over a 24-hour day for a fortnight to collect nearly 60 craft, ranging from 16 to 45 footers, from yards all along the south coast. the Norfolk Broads and London group of docks.
To complicate this, different types of vessel have to be 'brought in according to their weights and sizes. This is because the flooring at Earls Court is all suspended and certain areas can bear heayier weights than others. The bigger boats can be stationed only on stand areas specified by the exhibition authorities and the plan of operation has therefore to be staged so that the unloading and placing of the craft does not clutter up the aisles and entrances. This applies also to the galleries; the weightiest engines can be sited only where the concrete beams are strongest.
Day in and out Mr. Adams and his helpers, using walkie-talkie sets, alternate between ops room, ground floor and galleries, checking arrivals, superintending the firm's own cranes and fork-lift trucks and briefing drivers to pick up further loads. Problems of all , sorts arise—difficulties on the roads, delays at the docks, bad weather, unexpected traffic bottlenecks and diversions. Surrey and Hampshire police do not restrict daytime haulage; in the central Metropolitan area only night working of big loads is allowed. But the schedule calling for a rate of delivery of about 12 boats a day has to be maintained if all the craft are to be in position in time for the exhibitors to prepare them, and their accompanying stand decoration, ready for opening day_ While the show runs the ops room is kept busy fixing up the departures. An up-to-the-minute wallchart shows the "state of trade". Boats sold prior to or during the show may have to be taken back to their
builders for specification changes or to their new owners' selected moorings—which may be almost anywhere. Unsold craft and equipment usually return to their home yards and factories. Dismantling the exhibition stands, reloading vessels and rerouteing the transporters can be an even more complicated business than the incoming process. Nevertheless, since Adams Bristow have been doing the job for I2 years, its a compass point to a pinch of sea salt that the proud purchasers of some of the world's finest pleasure craft will presently find them safely at their berths, right on schedule.