Utility Bodies Introduce New Ventilation Problems
2nd February 1945
Page 31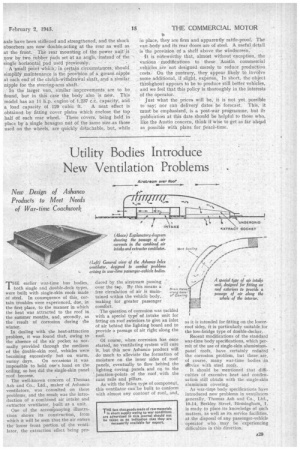 Page 31, 2nd February 1945 —
Utility Bodies Introduce New Ventilation Problems
Close
THE earlier war-time bus bodies, both single and double-deck types, were built with single-skin roofs made of steel. In consequence of this, certain troubles were experienced, due, in the first place, to the manner in which the heat was attracted to the roof in the summer months, and, secondly, as the result of corrosion during the winter.
In dealing with the heat-attraction problem, it was found that, owing to the absence of the air pocket as normally provided through the medium of the double-skin roof, vehicles were becoming excessively hot on warm, sunny days. On occasions it was impossible to hold one's hand on the ceiling, so hot did the single-skin panel roof .become.
The well-known concern of Thomas Ash and Co., Ltd., maker of Ashanco ventilators, was consulted on these problems, and the result was the introduction of a combined air intake and extractor ventilator, built as a unit.
One of the acconiPanying illustrations shows its construction, from which it will be seen that the air enters the lower front portion of the ventilator, theextraction effect being pro, dticed by the airstream passing !-oVer the tip. By this means a •
free circulation of air is maintained within the vehicle body, making for greater passenger comfort.
The question of corrosion was tackled with a special type of intake unit for fitting on roof exteriors to give an inlet of air behind the lighting board and to provide a passage of air right along the roof.
Of course, when corrosion has once started, no ventilating system will cure it, but this new. Ashanco product will do much to alleviate the formation of moisture on the inner sides of roof panels, eventually to flow behind the lighting coving panels and on to the
• junction-points of the roof with the cant rails and pillars.
As with the Inlex type of component, this ventilator can be built to conform with almost any contour of roof" and,
as it is intended for fitting on the lowerroof sides, it is particularly suitable for the low-bridge type of double-decker.
Recent modifications of the standard war-time body specifications, which permit of the use of single-skin aluminiumpanel roofs, have certainly reduced the corrosion problem, but there are, of course, many war-time bodies sOrvice with steel roofs.
It should be mentioned that difficulties of excessive heat and condensation still obtain with the single-skin aluminium covering.
As war-time body specifications have introduced new problems in ventilators generally, Thomas Ash and Co., Ltd., 10,14, Berkley Street, Birmingham, 1, is ready to place its knowledge of such matters, as well as its service facilities, at the disposal of any passenger-vehicle operator who May be experiencing difficulties in this direction.