NUFFIELD CONCESSION TO • LOCAL POLITICIANS
2nd February 1945
Page 21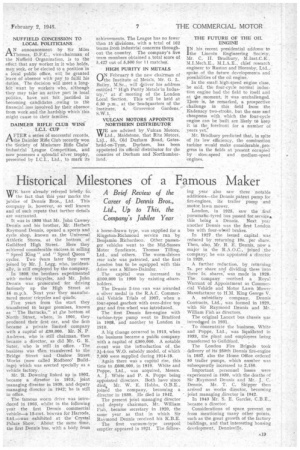 Page 21, 2nd February 1945 —
NUFFIELD CONCESSION TO • LOCAL POLITICIANS
Close
Keywords :
AN announcement by Sir Miles Thomas, D,F.C., vice-chairman of the Nuffield Organization, is to the . effect that any worker in. it who holds, may seek, or be elected to a position in a local public office, will be granted leave of absence with pay to fulfil his duties. The decision will meet a longfelt want by workers who, although they may take an active part in local. politics, have not felt justified in becoming candidates owing to the financial io.ss involved by their, absence. from work and the hardship which this might cause to their families.
DAIMLER RIFLE CLUB WINSI.C.I. CUP AA ETER• a series of successful retords, the Daimler Rifle Club recently won the ,Society of Miniature Rifle Clubs' Industrial League Competition, and now possesses a splendid silver trophy, presented by I.C.I., Ltd., to mark its
'achievements. The League has no fewer than 15 divisions, with a tctal of 162 teams froni industrial concerns throughout the country. The company's five team members obtained a,total score of 5,427 out of 5,500 for 1I matches'.
HIGH PURITY IN METALS
ON February 8 the new chairman of the Institute of Metals, Mr. G. L. Bailey, M.Sc., will rteliver his address entitled " High Purity Metals-in Industry," at 0.7 meeting of the London Local Section. This will be held at 6.30 p.m., at the 'headquarters of the Institute., 4,. 'Grosvenor Gardens," S.W.1.
VULCAN MOTORS APPOINTS NORTHERN DISTRIBUTOR
WE are advised. by Vulcan Motors, Ltd., Maidstone, that Ritz. Motors, Ltd., 55, Old Durham Road, Gates-head-on-Tyne, Durham, has been appointed its official distributor for the counties of Durham and Northumberland.
THE FUTURE OF THE OIL ENGINE
IN . his recent presidential address to the Lincoln Engineering Society, Mr. C. H. Bradbury, M.Inst.C.E., M,I.A.E.; chief research. engineer to' Ruston and Hornsby, Ltd.,, spoke of the future developments and possibilities of the oil engine.
In the. small high-speed engine class, he said, the four-cycle normal induction engine had the field to itself and at tale moment, it was unchallenged. There 'is, he remarked, a prospective challenge in this field from the Kadenacy two-stroke, hut the ease and cheapness with, which the four-cycle engine can be built are likely to keep it in the forefront for a number of years yet., Mr, Bradbury 'predicted that in spite of its low efficiency, the combustion turbine would make considerable , pro; gress in the fields at 'present occupied by • slow-speed and ined.inin-speed 'engines.