Historical Milestones of a Famous Maker
2nd February 1945
Page 21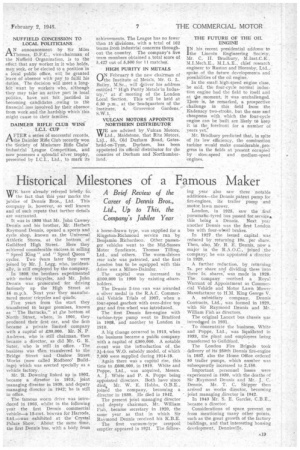 Page 21, 2nd February 1945 —
Historical Milestones of a Famous Maker
Close
WE have already referred briefly to, the fact that thiS year 'marks the jubilee of Dennis Bros" Ltd. This company is, however, so *ell known and of such repute that further details
are warranted. •
; It was in 1895 that Mr. Jelin Cawsey Dennis and his brother, Mr. Herbert Raymond Dennis, opened a sports and . cycle shop, known as the IThiversal. Athletic Stores, at the bottom-, of Guildford High Street. Here they achieved considerable success in selling " Speed King ". and "Speed Queen – cYcles... Two Years later they were joined by Mr. J. Legg, who, incidentally, is still employed by the company.
In 1898 the brothers experimented with motor tricycles, and Mr_ John Dennis was presecuted for, driving furiously up the High Street at • 16 m.p.h. Next year they manufactured motor' tricycles and quads.
Five years from the start they transferred tb. larger premises, known as "The Barracks," at the bottom of ' North Street, where, in 1901, they prodticed their first ear, and the firm became a private limited company with a capital of £30,000. Mr. N. P. Andrews, who is still chairman, then became a director, as did Mr. G. E. Suter, who is still in office. • The business was tten transferred to the Bridge Street and Onslow Street , Works (now called Rodbore Buildings) which was erected specially as a vehicle factory.
Mr. 'R. _Downing. linked up in 1902, became a dire-tor in 1913, joint managing director in 1939, and deputy managing director in 1942; he is still in office. •
The farncius worm drive was introduced in 1903, whilst in the following yeat the first Dennis commercial vehicle—a 15-cwt. boxyan for Harrods. Ltd,was exhibited at the Crystal Palace Show. About the same time, the first Dennis bus, with a body. from
a horse-drawn type, was sn.pplied for a Kingston-Richmond service. run 'by Benjamin Richardson. Other passenger vehicles went to the Mid-Sussex Motor Syndicate, Thomas Ltd., and others. The worm-driven rear axle was patented, and the first' London bus. to be. equipped with this drive was a Milnes-Daimler. '
The capital Was increased to £100,000 in 1906 by existing .hareholders.
The Dennis 2-ton van was awarded a silver medal in the R.A.C. Commercial Vehicle Trials of 1907, when a four-speed gearbox with over-drive top gear and free wheel was introduced,
The "first Dennis fire-engine with turbine-type pump went to Bradford in 1908, and another to London in 1910.
A big change occurred in 1913, when the business became a public company with a capital of £300,000. A notable event was the introduction Of, the 31-4-ton W.O. subsidy model, of .Which 7,000 were supplied during 1914-18.
Again there was a capital rise, this time to £600,000, in 1919. White and Poppe, Ltd., was acquired, Messrs. A. J. White and P. A, Poppe being appointed directors. Both have since died, Mr. W. E. IfobleS, 0.B.E" joined the company, becoming a director in 1939.. He died in _1942.
The present joint managing director and deputy chairman, Mr. William Fish, became secretary in 1920, the . same year. as that in which Sr RaYmond Dennis received his K.B.E.
The first vacuum-type cesspool emptier appeared in 1921. The fallow-. ing year also saw three notable additions— the Dennis .'potent pump for fire-engines, its trailer pump and motor lawn mower.
London, in 1925, saw the 'first pneumatic-tyred bus passed for service, this being a Dennis., year another Dennis was the rst London bus with four-wheel brakes.
In 1927 . the issued capital was reduced by .returning 10s. per share. Then, also, Mr. R. E. Dennis, now a major in the .R.A.0..C., joined the company; he was appointed a director in 1929,
A further. reduction, by returning 7s. per Share and dividing these into three ls: shares, was made in 1928. The company received a . Royal Warrant of Appointment as Commercial Vehicle and Motor Lawn Mower Manufacturer to H.M. King George V.
A subsidiary company, Dennis Contracts, Ltd., was formed in 1929, with Sir Raymond Dennis and Mr. \Villiani Fish as directors.
The original Lancet bus Chassis was introdifed in 1931. .
To concentrate the business, White' and Poppe, Ltd.; 'was liquidated in 1933, the plant and employees being transferred to Gulldford, The London Fire Brigade took delivery of its 250th Dennis fire-engine in 1937, also the Home Office ordered 50 trailer pumps, which number was subsequently increased to 2,150.
Important .personnel losses were experienced in 1939, with -the deaths of Sir Raymond Dennis and Mr. J. C. Dennis. Mr. T. C. Skipper then arrived as 'works director, becoming joint managing director in 1942. . In 1943 Mr. S. E, Garcke, C.B.E., became a director, Considerations of space prevent us from mentioning many other points, such as the great growth of the factory buildings, and that interesting housing development, Dennisville.