Clearing Up Merger Problems in Yorkshire P ASSENGER-VEHICLE, ancillary and haulage
2nd February 1945
Page 20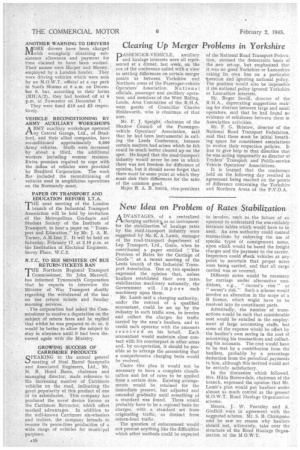 Page 20, 2nd February 1945 —
Clearing Up Merger Problems in Yorkshire P ASSENGER-VEHICLE, ancillary and haulage
Close
interests were all represented at a dinner, last week, on the eve Of the conference called with a view to settling differences on certain merger points as between Yorkshire and Northern areas of the Passenger-vehicle Operators' Association. Nation a 1 offitials, passenger and ancillary operators, and members of the West Riding, Leeds, Area Committee of the R.H.A. were guests of Councillor Charles Holdsworth, who is chairman of that area.
Mr. F. J. Speight, chairman of the Shadow Council of the Passengervehicle Operators' Association, said that he had been instrumental in calling the Leeds Conference, because certain matters had arisen which he felt could be much better cleared up on the spot. He hoped that the road-transport industry would never be one in which there was not freedom for difference of opinion, but it should never forget that there must be some point at which they must sink their differences for the sake of the common good.
Major R. A. B. Smith, vice-president of the National Road Transport Federation, stressed the democratic basis of the new set-up, but emphasized that it was no good Yorkshire or Lancashire taking its own line on a particular 'question and ignoring national policy. The position would also be impassible if the national policy ignored Yorkshire or Lancashire interests.
Mr. Roger Sewill, director of the R.H.A., deprecating suggestions mak-ing for distrust between large and small operators, said that he had found no evidence of selfishness between them in Association activities.
Mr. F. G. Bristow, director of the National Road Transport Federation, said that there mutt be initial breathing space for constituent associations to evolve their respective policies. It as to give help in that direction that he was acting temporarily a5 director of Traders' Transport and Public-service • Vehicle Operators' Associations.
. It is learned that the conference held on the following day resulted in agreement being reached on the points of difference concerning the -Yorkshire and Northern Areas of the P.V.O.A.