International Year Book
2nd April 1971
Page 23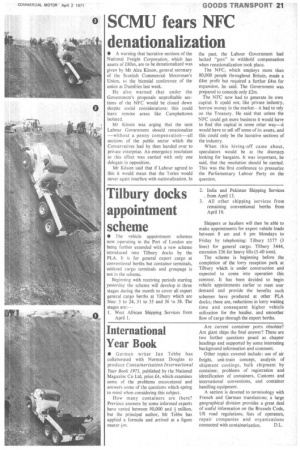 Page 23, 2nd April 1971 —
International Year Book
Close
• German writer Jan Tebbe has collaborated with Norman Douglas to produce Containerisation International Year Book 1971, published by the National Magazine Co Ltd, price £4, which examines some of the problems encountered and answers some of the questions which spring to mind when considering this subject.
How many containers are there? Previous answers by some informed experts have varied between 90,000 and ÷ million, but the principal author, Mr Tebbe has applied a formula and arrived at a figure nearer Jim.
the past, the Labour Government had lacked "guts" to withhold compensation when renationalization took place.
The NFC, which employs more than 80,000 people throughout Britain, made a £4m profit but required a further £4m for expansion, he said. The Government was prepared to concede only £2m.
The NFC now had to generate its own capital. It could not, like private industry, borrow money in the market—it had to rely on the Treasury. He said that unless the NFC could get more business it would have to find this capital in some other way—it would have to sell off some of its assets, and this could only be the lucrative sections of the industry.
When this hiving-off came about, speculators would be at the doorstep looking for bargains. It was important, he said, that the resolution should be carried. This was the first conference to pressurize the Parliamentary Labour Party on the question.
2. India and Pakistan Shipping Services from April 13.
3. All other shipping 'services from remaining conventional berths from April 19.
Shippers or hauliers will then be able to make appointments for export vehicle loads between 8 am and 6 pm Mondays to Friday by telephoning: Tilbury 5577 (3 lines) for general cargo. Tilbury 3444, extension 236 for heavy lifts (5-40 tons).
The scheme is beginning before the completion of the lorry reception park at Tilbury which is under construction and expected to come into operation this summer. It has been decided to begin vehicle appointments earlier to meet user demand and provide the benefits such schemes have produced at other PLA docks; these are, reductions in lorry waiting time and consequent higher vehicle utilization for the haulier, and smoother flow of cargo through the export berths.
Are current container ports obsolete? Are giant ships the final answer? These are two further questions posed as chapter headings and supported by some interesting background information and comment.
Other topics covered include: use of air freight, unit-train concept, analysis of shipment costings, bulk shipment by container, problems of registration and identification of containers, Customs and international conventions, and container handling equipment.
A section is devoted to terminology with French and German translations; a large geographical division provides a great deal. of useful information on the Brussels Code, US road regulations, lists of operators, repair companies and organizations connected with containerization. D.L.