BEA Orders 65 Trailer-towing Routemasters
2nd April 1965
Page 52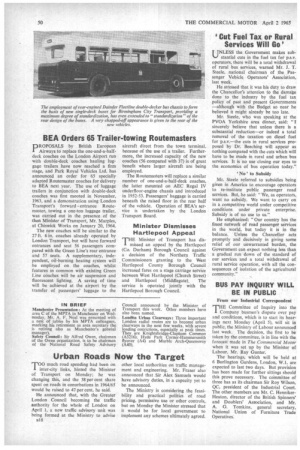 Page 52, 2nd April 1965 —
BEA Orders 65 Trailer-towing Routemasters
Close
PROPOSALS by British European I Airways to replace the one-and-a-halfdeck coaches on the London Airport run with double-deck coaches hauling luggage trailers have now reached a firm stage, and Park Royal Vehicles Ltd. has announced an order for 65 specially adapted Routemaster coaches for delivery to I3EA next year. The use of luggage trailers in conjunction with double-deck coaches was first mooted in November, 1963, and a demonstration using London Transport's forward entrance Routemaster, towing a one-ton luggage trailer, was carried out in the presence of the then Minister of Transport, Mr. Marples, at Chiswick Works on January 20, 1964.
The new coaches will be similar to the 27 ft. 6 in. coaches already operated by London Transport, but will have forward entrances and seat 56 passengers compared with the Green Line's rear entrance and 57 seats. A supplementary, independent, oil-burning heating system will be employed on the coaches, whilst features in common with existing Green Line coaches will be air suspension and fluorescent lighting. A saving of time will be achieved at the airport by the transfer of passengers' luggage to the aircraft direct from the town terminal, because of the use of a trailer. Furthermore, the increased capacity of the new coaches (56 compared with 37) is of great benefit where larger aircraft are being employed.
The Routemasters will replace a similar number of one-and-a-half-deck coaches, the latter mounted on AEC Regal IV underfloor-engine chassis and introduced in 1952-53. Passengers' baggage is carried beneath the raised floor in the rear half of the vehicle. Operation of BEA's service is undertaken by the London Transport Board.