Metals and Materials.
2nd April 1908
Page 44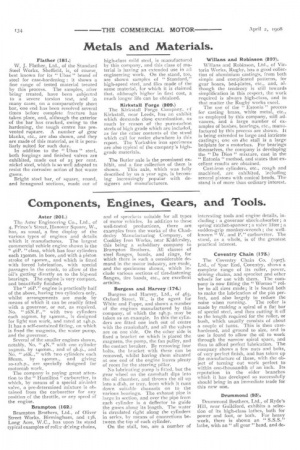 Page 44, 2nd April 1908 —
Metals and Materials.
Close
Flather (181.)
1V, J. Flather, Ltd., of the Standard Steel Works, Sheffield, is, of course, best known for its " Ubas " brand of steel for case-hardening : it shows a fine range of tested material treated by this process. The samples, after being treated, have been subjected to a severe torsion test, and in many cases, on a comparatively short bar, one end has been revolved several times before complete fracture has taken place, and, although the exterior of the bar has cracked, owing to the hardening, the tough centre has prevented rupture. A number of gear blanks, etc., are also shown, and they are made of this material, as it is peculiarly suited for such duty. In addition to the " Llbas " steel, both forgings and finished valves are exhibited, made out of 25 per cent. nickel steel, which is so well adapted to resist the corrosive action of hot waste gases.
Bright steel bar, of square, round, and hexagonal sections, made out of high-class mild steel, is manufactured by this company, and this class of material is having an extended use in ml engineering work. On the stand, too, are shown samples of " Standard," high-speed steel, and files made of the same material, for which it is claimed that, although higher in first cost, a much longer life can be obtained.
Kirkstall Forge (209.) The Kirkstall Forge Company, el Kirkstall, near Leeds, has an exhibit which demands close examination, as much by reason of the pure-carbon steels of high grade which are included, as for the other contents of the stand which call for notice elsewhere in this report. The Yorkshire iron specimens are also typical of the company's high. grade materials.
The Butler axle is the prominent exhibit, and a fine collection of them is shown. This axle, which was fully described by us a year ago, is becoming increasingly popular with designers and manufacturers. Willans and Robinson (207).
Willans and Robinson, Ltd., of Victoria Works, Rugby, has a good collection of aluminium castings, from both simple and complicated patterns, for gear boxes, bed-plates, etc., and, although the tendency is still towards simplification in this respect, the work required is always high-class, and in that matter the Rugby works excel.
The use of the " Eatonia " process for casting brass, white metal, etc., as employed by this company, still advances, and a large number of examples of bushes, bearings, etc., manufactured by this process are shown. It is being extended to large and intricate castings; one on he stall is a large bedplate for a motorbus. For bearings themselves, the company is developing the " De Dion " mixture, cast in the " Eatonia "method, and states that excellent results are obtained.
Cast-iron cylinders, etc., rough and machined, are exhibited, including several pistons with conical heads. The stand is of more than ordinary interest.