Happy to be Moody
29th September 2011
Page 47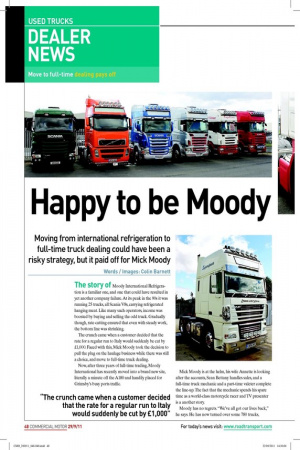 Page 48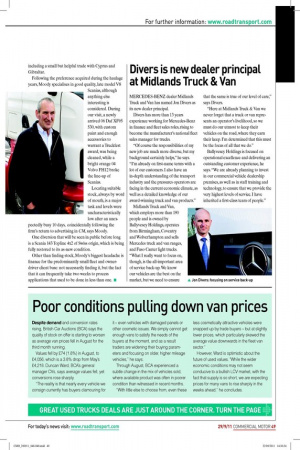 Page 47, 29th September 2011 —
Happy to be Moody
Close
Moving from international refrigeration to full-time truck dealing could have been a risky strategy, but it paid off for Mick Moody
Words / Images: Colin Barnett
The story of Moody International Refrigeration is a familiar one, and one that could have resulted in yet another company failure. At its peak in the 90s it was running 25 trucks, all Scania V8s, carrying refrigerated hanging meat. Like many such operators, income was boosted by buying and selling the odd truck. Gradually though, rate cutting ensured that even with steady work, the bottom line was shrinking.
The crunch came when a customer decided that the rate for a regular run to Italy would suddenly be cut by £1,000. Faced with this, Mick Moody took the decision to pull the plug on the haulage business while there was still a choice, and move to full-time truck dealing.
Now, after three years of full-time trading, Moody International has recently moved into a brand new site, literally a minute off the A180 and handily placed for Grimsby's busy ports trafic. Mick Moody is at the helm, his wife Annette is looking after the accounts, Sean Bettany handles sales, and a full-time truck mechanic and a part-time valeter complete the line-up. The fact that the mechanic spends his spare time as a world-class motorcycle racer and TV presenter is a another story.
Moody has no regrets. "We've all got our lives back," he says. He has now turned over some 780 trucks, including a small but helpful trade with Cyprus and Gibraltar.
Following the preference acquired during the haulage years, Moody specialises in good quality, late model V8 Scanias, although anything else interesting is considered. During our visit, a newly arrived 06 Daf XF95 530, with custom paint and enough accessories to warrant a Truckfest award, was being cleaned, while a bright orange 04 Volvo FH12 broke the line-up of Scanias.
Locating suitable stock, always by word of mouth, is a major task and levels were uncharacteristically low after an unex pectedly busy 10 days, coincidentally following the
irm's return to advertising in CM, says Moody.
One diversion that will be seen in public before long is a Scania 143 Topline 4x2 of Swiss origin, which is being fully restored to its as-new condition.
Other than inding stock, Moody's biggest headache is inance for the predominantly small leet and ownerdriver client base: not necessarily inding it, but the fact that it can frequently take two weeks to process applications that used to be done in less than one. n