Covering all bases
29th September 2011
Page 4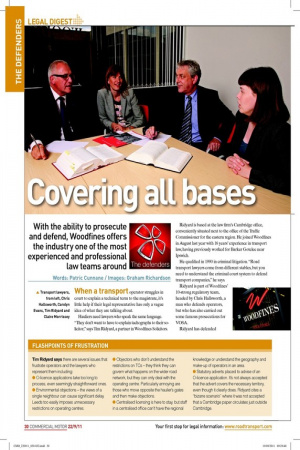 Page 5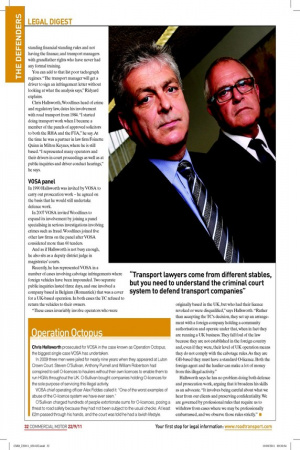 Page 4, 29th September 2011 —
Covering all bases
Close
Keywords :
Transport
,
Law
,
Legal Professions
,
Land Transport
,
Occupations
,
Traffic Law
,
Department For Transport
,
Vehicle And Operator Services Agency
,
Tachograph
,
Cabotage
,
Solicitor
,
Advocate
With the ability to prosecute and defend, Woodfines offers the industry one of the most experienced and professional law teams around
Words: Patric Cunnane / Images: Graham Richardson When a transport operator struggles in
court to explain a technical term to the magistrate, it's little help if their legal representative has only a vague idea of what they are talking about.
Hauliers need lawyers who speak the same language. "They don't want to have to explain tachographs to their solicitor," says Tim Ridyard, a partner in Woodines Solicitors. Ridyard is based at the law irm's Cambridge ofice, conveniently situated next to the ofice of the Trafic Commissioner for the eastern region. He joined Woodines in August last year with 16 years' experience in transport law, having previously worked for Barker Gotelee near Ipswich.
He qualiied in 1990 in criminal litigation. "Road transport lawyers come from different stables, but you need to understand the criminal court system to defend transport companies," he says.
Ridyard is part of Woodines' 10-strong regulatory team, headed by Chris Hallsworth, a man who defends operators, but who has also carried out some famous prosecutions for VOSA.
Ridyard has defended standing inancial standing rules and not having the inance; and transport managers with grandfather rights who have never had any formal training.
You can add to that list poor tachograph regimes. "The transport manager will get a driver to sign an infringement letter without looking at what the analysis says," Ridyard explains.
Chris Hallsworth, Woodines head of crime and regulatory law, dates his involvement with road transport from 1984. "I started doing transport work when I became a member of the panels of approved solicitors to both the RHA and the FTA," he say. At the time he was a partner in law irm Foinette Quinn in Milton Keynes, where he is still based. "I represented many operators and their drivers in court proceedings as well as at public inquiries and driver conduct hearings," he says.
VOSA panel
In 1990 Hallsworth was invited by VOSA to carry out prosecution work – he agreed on the basis that he would still undertake defence work.
In 2007 VOSA invited Woodines to expand its involvement by joining a panel specialising in serious investigations involving crimes such as fraud. Woodines joined ive other law irms on the panel after VOSA considered more than 60 tenders.
And as if Hallsworth is not busy enough, he also sits as a deputy district judge in magistrates' courts.
Recently, he has represented VOSA in a number of cases involving cabotage infringements where foreign vehicles have been impounded. Two separate public inquiries lasted three days, and one involved a company based in Belgium (Romantiek) that was a cover for a UK-based operation. In both cases the TC refused to return the vehicles to their owners.
"These cases invariably involve operators who were originally based in the UK, but who had their licence revoked or were disqualiied," says Hallsworth. "Rather than accepting the TC's decision, they set up an arrangement with a foreign company holding a community authorisation and operate under that, when in fact they are running a UK business. They fall foul of the law because they are not established in the foreign country and, even if they were, their level of UK operation means they do not comply with the cabotage rules. As they are GB-based they must have a standard O-licence. Both the foreign agent and the haulier can make a lot of money from this illegal activity."
Hallsworth says he has no problem doing both defence and prosecution work, arguing that it broadens his skills as an advocate. "It involves being careful about what we hear from our clients and preserving conidentiality. We are governed by professional rules that require us to withdraw from cases where we may be professionally embarrassed, and we observe those rules strictly." ■