Haulier has licence revoked for lack of financial control
29th September 2011
Page 16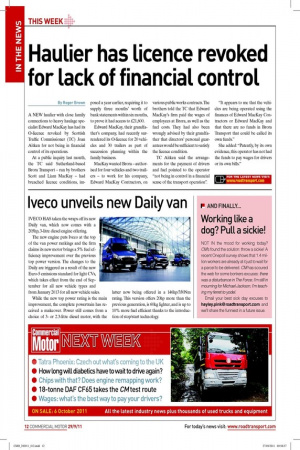 Page 16, 29th September 2011 —
Haulier has licence revoked for lack of financial control
Close
By Roger Brown
A NEW haulier with close family connections to heavy haulage specialist Edward MacKay has had its O-licence revoked by Scottish Trafic Commissioner (TC) Joan Aitken for not being in inancial control of its operations.
At a public inquiry last month, the TC said Sutherland-based Brora Transport – run by brothers Scott and Liam MacKay – had breached licence conditions, im posed a year earlier, requiring it to supply three months' worth of bank statements within six months, to prove it had access to £21,600.
Edward MacKay, their grandfather's company, had recently surrendered its O-licence for 20 vehicles and 30 trailers as part of succession planning within the family business.
MacKay wanted Brora – authorised for four vehicles and two trailers – to work for his company, Edward MacKay Contractors, on various public works contracts. The brothers told the TC that Edward MacKay's irm paid the wages of employees at Brora, as well as the fuel costs. They had also been wrongly advised by their grandfather that directors' personal guarantees would be suficient to satisfy the licence condition.
TC Aitken said the arrangements for the payment of drivers and fuel pointed to the operator "not being in control in a inancial sense of the transport operation" . "It appears to me that the vehicles are being operated using the inances of Edward MacKay Contractors or Edward MacKay and that there are no funds in Brora Transport that could be called its own funds." She added: "Patently, by its own evidence, this operator has not had the funds to pay wages for drivers or its own bills."
FOR THE LATEST NEWS VISIT:
www.roadtransport.com