FairFuel: 4,000 signatures to go
29th September 2011
Page 14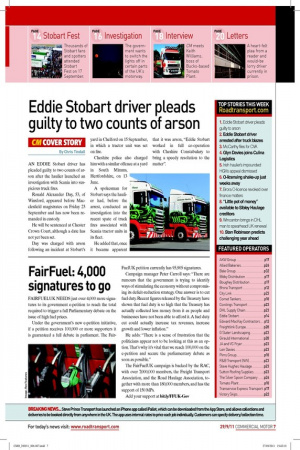 Page 14, 29th September 2011 —
FairFuel: 4,000 signatures to go
Close
FAIRFUELUK NEEDS just over 4,000 more signatures to its government e-petition to reach the total required to trigger a full Parliamentary debate on the issue of high fuel prices.
Under the government's new e-petition initiative, if a petition receives 100,000 or more supporters it is guaranteed a full debate in parliament. The Fair FuelUK petition currently has 95,905 signatures.
Campaign manager Peter Carroll says: "There are rumours that the government is trying to identify ways of stimulating the economy without compromising its deicit-reduction strategy. One answer is to cut fuel duty. Recent igures released by the Treasury have shown that fuel duty is so high that the Treasury has actually collected less money from it as people and businesses have not been able to afford it. A fuel duty cut could actually increase tax revenues, increase growth and lower inlation." He adds: "There is a sense of frustration that the politicians appear not to be looking at this as an option. That's why it's vital that we reach 100,000 on the e-petition and secure the parliamentary debate as soon as possible." The FairFuelUK campaign is backed by the RAC, with over 7,000,000 members, the Freight Transport Association, and the Road Haulage Association, together with more than 180,000 members, and has the support of 150 MPs.
Add your support at bit.ly/FFUK-Gov