Make yourself heard
29th September 2011
Page 10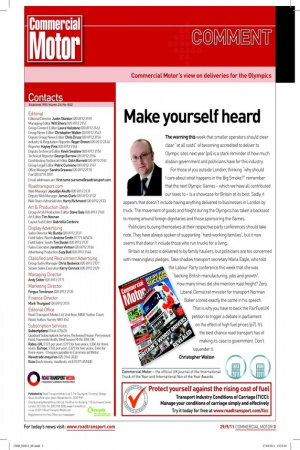 Page 10, 29th September 2011 —
Make yourself heard
Close
The warning this week that smaller operators should steer clear "at all costs" of becoming accredited to deliver to Olympic sites next year (p6) is a stark reminder of how much disdain government and politicians have for this industry.
For those of you outside London, thinking "why should I care about what happens in the Big Smoke?" remember that the next Olympic Games – which we have all contributed our taxes to – is a showcase for Britain at its best. Sadly, it appears that doesn't include having anything delivered to businesses in London by truck. The movement of goods and freight during the Olympics has taken a backseat to moving around foreign dignitaries and those sponsoring the Games.
Politicians busying themselves at their respective party conferences should take note. They have always spoken of supporting "hard-working families", but it now seems that doesn't include those who run trucks for a living.
Britain at its best is delivered to by family hauliers, but politicians are too concerned with meaningless pledges. Take shadow transport secretary Maria Eagle, who told the Labour Party conference this week that she was "backing British manufacturing, jobs and growth". How many times did she mention road freight? Zero. Liberal Democrat minister for transport Norman Baker scored exactly the same in his speech. That is why you have to back the FairFuelUK petition to trigger a debate in parliament on the effect of high fuel prices (p7). It's the best chance road transport has of making its case to government. Don't squander it.
Christopher Walton