A Novel Two-wheeled Trailer with a floating boom
29th November 1935
Page 58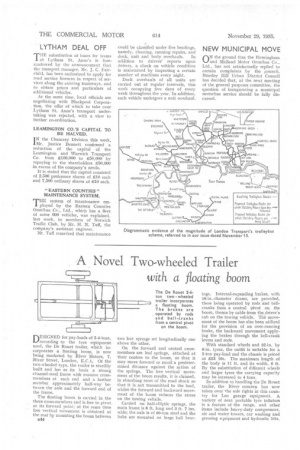 Page 58, 29th November 1935 —
A Novel Two-wheeled Trailer with a floating boom
Close
DESIGNED for pay-loads of 2-4-tons, according to the tyre equipment used, the De Rouet trailer, which incorporates a floating boom, is now being marketed by River Motors, 7, River Street, London, E.C.I. Of the two-wheeled type, the trailer is sturdily built and has as its basis a strong channel-steel frame with massive crossmembers at each end and a further member approximately half-way between the axle and the forward end of the frame.
The floating boom is carried in the three cross-members and is free to pivot at its forward point; at the same time free vertical movement is obtained at the rear by mounting the boom between 544 two leaf springs set longitudinally one above the other.
On the forward and central crossmembers are leaf springs, attached at their centres to the boom, so that it may move forward or recoil a predetermined distance against the action of the springs. The free vertical movement of the boom results, it is claimed, in absorbing most of the road shock so that it is not transmitted to the load, whilst the forward and backward movement of the boom reduces the stress on the towing vehicle.
Carried on half-elliptic springs, the main frame is 8 ft. long and 3 ft. 7 ins. wide; the axle is of 130-ton steel and the hubs are mounted on large ball bear
ings. Internal-expanding brakes, with 16-in.-diameter drums, are provided, these being operated by rods and hellcranks from a central pivot on the boom, thence by cable from the driver's cab on the towing vehicle. The movement of the boom has also been utilized for the provision of an over-running brake, the backward movement applying the brakes through the bell-crank levers and rods.
With standard wheels and 32-in. by 6-in. tyres, the outfit is suitable for a 2-ton pay-load and the chassis is priced at £52 10s. The maximum length of the body is 11 ft. and its width, 6 ft. By the substitution of different wheels and larger tyres the carrying capacity may be increased to 4 tons.
In addition to handling the De Rouet trailer, the River concern has now taken over the sole rights in this country for Leo garage equipment. A variety of neat portable tyre inflators is a feature of the range, and other items include heavy-duty compressors, air and water towers, car washing and greasing equipment and hydraulic lifts.