Prospects for English Vehicles in Canada How to Organize a
29th November 1935
Page 50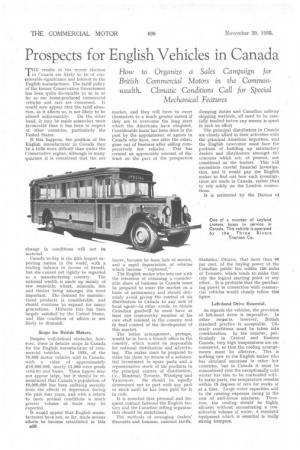 Page 50, 29th November 1935 —
Prospects for English Vehicles in Canada How to Organize a
Close
Sales Campaign for British Commercial Motors in the Cominonwealth. Climatic Conditions Call for Special Mechanical Features THE results of the recent election in Canada are likely to be of considerable significance and interest to the English manufacturer. The tariff policy of the former Conservative Government has been quite favourable to us in so far as our home-produced commercial vehicles and cars are concerned. It would now appear that the tariff situation, as it affects us, is not likely to be
altered unfavourably. On the other hand, it may be made somewhat more favourable than it has been in respect of other countries, particularly the United States.
If this happens, the position of the English manufacturer in Canada may be a trifle more difficult than under the Conservative regime, although in many quarters it is considered that the net change in conditions will not be material.
Canada to-day is the fifth largest exporting• nation in the world, with a trading balance in favour of herself, but she cannot yet rightly be regarded as a manufacturing country. The national wealth is made up mainly of raw materials; wheat, minerals, fish and timber being amongst the most important. The demand for manufactured products is considerable, and should continue to expand for many generations. Hitherto this has been largely satisfied' by the United States, and this condition of affairs is not likely to diminish.
Scope for British Makers.
Despite well-defined obstacles, however, there is definite scope in Canada for the English manufacturer of com
mercial vehicles. In 1934, of the 76,000 motor vehicles sold in Canada, with a value of approximately•
16,000,000, nearly 12,000 were goods vehicles and buses. These figures may not appear large, but it should be remembered that Canada's population of 10,000,000 has been suffering severely from the effects of depression during the past four years, and with a return to more normal conditions a much greater, volume of trade may be expected.
It would appear that English maimfacturers have not, so far, made serious efforts to become established in this
market, and they will have to exert themselves to a much greater extent if they are to overcome the long start which the Americans have obtained. Considerable harm has been done in the past by the appointment of agents in Canada who have, one after the other, gone out of business after selling comparatively few vehicles. This has created an appreciable amount of distrust on the part of the prospective buyer,. because he fears lack of service, and a rapid depreciation of vehicles which become "orphaned."
The English maker who sets out with the intention of obtaining a considerable share of business in Canada must be prepared to enter the market on a basis of permanency and should definitely avoid giving the control of ais distribution in Canada to any sort of local agent—in other words, to obtain Canadian goodwill he must have at least one trustworthy member of his own staff resident in the country and in final control -of the development of this market.
The better arrangement, perhaps, would be to have a branch office in the country, which would be responsible for national distribution and advertising. The maker must be prepared to stake his claim by means of a substantial investment in spare parts and a representative stock of his products in the principal centres of distribution, i.e., Montreal, Toronto, Winnipeg and Vancouver. 'He should be equally determined not to part with any part or stock until he has been paid for it in cash.
It is essential that personal and frequent contact between the English factory and the Canadian selling organization should be maintained.
The methods of arranging dealers' discounts and bonuses, customs tariffs, dumping duties and Canadian railway shipping methods, all need to be carefully studied before any money is spent in such an effort The principal distributors in Canada are closely allied in their activities with the principal American importers, and the English newcomer must face the problem of building up satisfactory dealers and distributors amongst tha concerns which are, at present, not considered as the leaders. This will necessitate careful financial investigation, and it would pay the English maker to find out how such investigations are made in Canada, rather than to rely solely on the London connections.
It is estimated by the Bureau of
Statistics, Ottawa, that more than 60 per cent, of the buying power of the Canadian public lies within 150 miles of Toronto, which tends to make that city the logical starting point of any effort. It is probable that the purchasing power in connection with commercial vehicles would closely follow this figure.
Left-hand Drive Essential.
As regards the vehicles, the provision of left-hand drive is imperative. In other respects, however, British standard practice is acceptable. Climatic conditions must be taken into consideration. In the summer, particularly in Central and Eastern Canada, very high temperatures are encountered, so that the cooling arrangements must be effective. This is nothing new to the English maker who has obtained successes in other, hot countries, but in Canada it must be remembered that the exceptionally cold winter has also to be contended with. In many parts, the temperature remains within 10 degrees of zero for weeks at at a time. Large water capacities add to the running expenses owing to the cost of anti-freeze mixtures. Therefore, the cooling should be highly efficient without necessitating a considerable volume of water. A standard equipment which is essential is 'really strong bumpers.