Hinged Valve Gear to Simplify Maintenance
29th November 1935
Page 35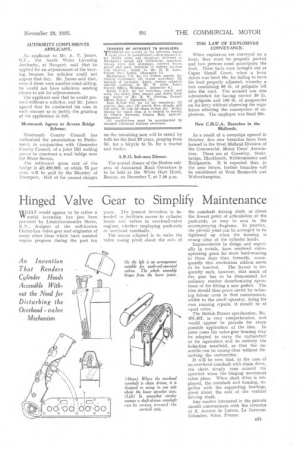 Page 35, 29th November 1935 —
Hinged Valve Gear to Simplify Maintenance
Close
IviIAT would appear to be rather a VV useful invention has just been patented by Lieut-Commander Slater, R.N., • designer of the well-known Chater-Lea valve gear and originator of many other ideas which have assisted engine progress during the past ten years. The present invention is intended to facilitate access to cylinder heads and valves in overhead-valve engines, whether employing push-rods or overhead camshafts.
The means adopted is to make the valve casing pivot about the axis of the camshaft driving shaft, or about the lowest point of articulation of the push-rods, as may be seen in the accompanying diagrams, In practice, the pivotal joint can be arranged to be tightened up when the housing is swung clear of the cylinder heads.
Improvements in design and especially in metals, have rendered valveoperating gears far more hard-wearing in these days than formerly, consequently this mechanism seldom needs
to be touched. The layout is frequently such, however, that much of the gear has to be dismounted for ordinary routine decarbonizing operations or for fitting a new gasket. The idea should thus prove useful by reducing labour costs in fleet maintenance, whilst to the small operator, doing his own running repairs, it should be of equal value.
The British Patent specification, No. 435,487, is very comprehensive, and would appear to provide for every possible application of the idea. In some cases the valve-gear housing may be adapted to carry the carburetter or its equivalent and to embody the induction manifold, so that the ensemble can be swung clear without disturbing the carburetter.
It will be seen that, in the case of an overhead camshaft with chain drive, the chain simply runs around the sprocket when the hinging movement takes place, When shaft drive is employed, the camshaft and housing, together with the supporting bearings, pivot about the axis of the vertical driving shaft. Any readers interested in the patents should communicate with the inventor at 2, Avenue de Lutece, La GarenneColombes, Seine, France.