S.T.R. Addresses I.T.A. in Birmingham
29th November 1935
Page 32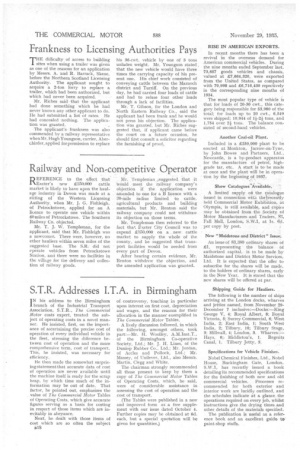 Page 32, 29th November 1935 —
S.T.R. Addresses I.T.A. in Birmingham
Close
I N his address to the Birmingham branch of the Industrial Transport Association, S.T.R., The Commercial Motor costs expert, treated the subject of operating costs in a novel manner, He insisted, first, on the importance of ascertaining the precise cost of operation of every individual vehicle in the fleet, stressing the difference between cost of operation and the more comprehensive term, cost of transport. This, he insisted, was necessary for efficiency.
He then made the somewhat surprisingstatementthat accurate data of cost of operation are never available until the machine itself is ready for the scrap heap, by which time much of the information may be out of date. That factor, he pointed out, emphasizes the . value of The Commercial Motor Tables of Operating Costs, which give acc.urate figures serving as a basis for costing in respect of those items which are inevitably in abeyance.
Next, he dealt with those items of cost which are so often the subject 1318 of. controversy, touching in particular upon interest on first cost, depreciation and wages, and the reasons for their allocation in the manner exemplified in The Commercial Motor Tables.
A lively discussion followed, in which the following, amongst others, took part:—Mr. H. Woolley, A.M.Inst.T., of the Birmingham Co-operative Society, Ltd,; Mr. J. H. Lines, of the Dunlop Rubber Co., Ltd.; Mr. Jordan, of Accles and Pollock, Ltd.; Mr. Massey, of Unilever,. Ltd., also Messrs. Martin, Clegg and White, The chairman strongly recommended all those present to keep •by them a copy of The Commercial Motor Tables of Operating Costs, which, he said, were of considerable assistance in assessing the cost of operation and the cost of transport.
(The Tables were published in a new and improved form as ',a free supplement with our issue dated October 4. Further copies may be obtained at 6d. each, but a special quotation will be given for quantities.)