Frankness to Licensing Authorities Pays T HE difficulty of access to
29th November 1935
Page 32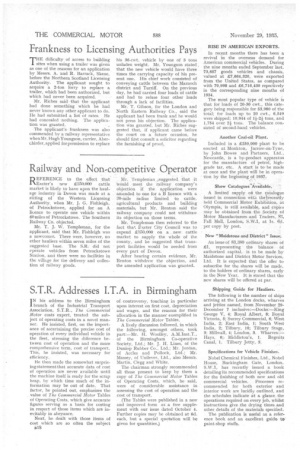 Page 32, 29th November 1935 —
Frankness to Licensing Authorities Pays T HE difficulty of access to
Close
building sites when using a trailer was given as one of the reasons for an application by Messrs. A. and R. I3arrack, Skene, before the Northern Scotland Licensing Authority. The applicant sought to acquire a 2-ton lorry to replace a trailer, which had been authorized, but which had never been acquired.
Mr. Riches said that the applicant had done something which he had never known any other applicant to do. He had submitted a list of rates. He had concealed nothing. The applica tion was granted. ,
The applicant's., frankness was also commended by a railway representative whenMr, Hugh Youngson, carrier, Aberchirder,appIied forpermission to replace
his 36-cwt. vehicle by one of 3 tons unladen weight. Mr. Youngson stated that the new vehicle would have three times the carrying capacity of his present one. His chief work consisted of conveying cattle between the Marnoch district and Turriff. On the previous day, he bad carried four loads of cattle and had to refuse four other loads through a lack of facilities.
Mr. T. Gibson, for the London and North Eastern Railway Co., said the applicant had been frank and he would not press his objection. The application Was granted, but Mr. Riches suggested that, if applicant came before the. court on a future occasion, he should first consult a solicitor regarding the furnishing of proof.