Personal Pars
29th November 1935
Page 31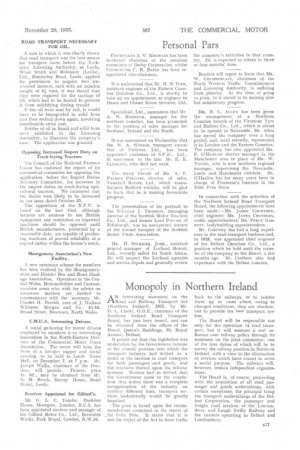 Page 31, 29th November 1935 —
Personal Pars
Close
CouNciLLoR A. V. KNOWLES has been re-elected chairman of the omnibus committee of Derby Corporation, whilst COUNCIT.I.OR C. R. BATES has been reappointed vice-chairman.
It is understood that Mr. H. N. TuFF, assistant engineer of the Eastern Counties Omnibus Co., Ltd., is shortly to take up an appointment as engineer to Hants and Dorset Motor Services, Ltd.
Specialloid, Ltd., announces that Mr. A. W. ROEBUCK, manager for the northern counties, has been promoted to the position of sales manager for Scotland, Ireland and the North.
It was announced on Wednesday that MR. W. A. \VINSON, transport executive of Unilever, Ltd., has been appointed Chairman Of S.P.D., Ltd., in succession to the late Mr. E. E. CLEMENTS, who'died last week, The many friends of MR. A. F. PALMER PHIT.LIPS, director of sales, Vauxhall Motors,Ltd., which • manufactures Bedford vehicles, will be glad to learn that he is making favourable progress.
The presentation of his portrait to SIR Wstrtarii J. THOMSON, massaging director of the Scottish Motor Traction Co., Ltd., and former Lord Froyost of Edinburgh, was an unexpected feature of the annual banquet of the Scottish Motor Trade Association.
MR. II. SPURRIER, JUNR., assistant general manager of Leyland Motors, Ltd., recently sailed for South Africa. He will inspect the Leyland agencies and service depots and generally review the company's activities in that country. He is expected to return in three or four months' time.
Readers will regrk to learn that MR, W. CHAMBERLAIN, chairman of the North Western Traffic Commissioners and Licensing Authority, is suffering from pleurisy. At the time of going to press, he is stated to be making slow but satisfactory progress.
MR. R. L. ALLEN has been given the management of a Northern Counties branch of the Firestone Tyre and Rubber Co., Ltd., which is about. to be opened in -Newcastle. Mr. Allen has served the company over a long period, and, until recently, represented it in London and the Eastern Counties, The company has also appointed MR. E. O'Haritose district manager in the Manchester area in place of MR. W. YouNo, who is now northern regional manager, supervising the Newcastle, Leeds and Manchester districts. Mr. &Hanlon has for many years been in charge of Firestone's business in the Irish Free State.
In connection with the activities of the Northern Ireland Road Transport Board, the following appointments have
been made : JAMES COURTNEY, chief engineer; MR. JAMES CROTHERS, traffic superintendent; MR. PERCY GARRETT, bodybuilding superintendent.
Mr. Courtney has had a long experience in the road-transport business and, in 1928, was appointed chief engineer of the Belfast Omnibus Co.,. Ltd., a position which he held until the transfer of the company to the Board, a few mouths ago. Mr. Crothers also had experience with the Belfast concern.