The Injustice of Licence Suspension 0 N numerous occasions The Commercial
29th November 1935
Page 27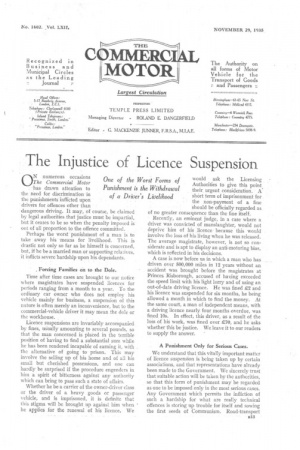 Page 28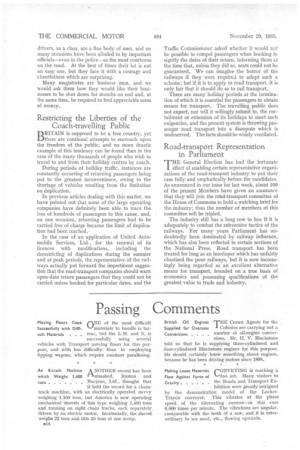 Page 27, 29th November 1935 —
The Injustice of Licence Suspension 0 N numerous occasions The Commercial
Close
Motor -has drawn attention to the need for discrimination in the punishments inflieted upon drivers for offences other than • dangerous driving. It may, of course, be claimed by legal authorities that justice must be impartial, but it ceases to be so when the penalty imposed is out of all proportion to the offence committed. Perhaps the worst punishment of a man is to take away his means for livelihood. This is drastic not only so far as he himself is concerned, but, if he be a married man or supporting relatives, it inflicts severe hardship upon his dependants.
, Forcing Families on to the Dole.
Time after time cases are brought to our notice where magistrates have suspended licences for periods ranging from a month to a year. To the ordinary car owner who does not employ his vehicle mainly for business, a suspension of this nature is often merely an inconvenience, but to the commercial-vehicle driver it may mean the dole or the workhouse. , Licence suspensions are invariably accompanied by fines, uSnally amounting to several pounds, so that the man concerned is placed in the terrible position of having to find a substantial sum while he has been rendered incapable of earning it, with the alternative of going to prison. This may involve the selling up of his home and of all his small but cherished possessions, and one can hardly be surprised if the procedure engenders in him a spirit of bitterness against any authority which can bring to pass such a state of affairs.
Whether he be a carrier of the owner-driver class or the driver of a heavy goods or passenger vehicle, and is imprisoned, it is definite that this stigma will be brought up against him when he applies for the renewal of his licence. We would ask the Licensing Authorities to give this point. their urgent consideration. A short term of imprisonment for the non-payment of a fine should be officially regarded as of no greater consequence than the fine itself.
Recently, an eminent judge, in a case where a driver was convicted of manslaughter, would not deprive him of his licence because this would involve the loss of his living when he was released. The average magistrate, however, is not so considerate and is apt to display an anti-motoring bias, which is reflected in his decisions.
A case is now before us in which a man who has driven over 500,000 miles in 12 years without an accident was brought before the magistrates at Princes Risborough, accused of haying exceeded the speed limit with his light lorry and of using an out-of-date driving licence. He was fined and his licence was suspended for six months, he being allowed a month in which to find the money. At the same court, a man of independent means, with a driving licence nearly, four months overdue, was fined 10s. In effect, this driver, as a result of the loss of his work, was fined over £70, and he asks whether this be justice. We leave it to our readers to supply the answer.
A Punishment Only for Serious Cases.
We understand that this vitally important matter of licence suspension is being taken up by certain associations, and that representations have already been made to the Government. We sincerely trust that suitable action will be taken by the authorities, so that this form of punishment may be regarded as one to be imposed only in the most serious cases. Any Government which permits the infliction of such a hardship for what are really technical offences is storing up trouble for itself and sowing the first seeds of Communism. Road-transport drivers, as a class, are a fine body of men, and on many occasions have been alluded to by important officials—even in the police--as the most courteous on the road. At the best of times their lot is not an easy one, but they face it with a courage and cheerfulness which are surprising.
Many magistrates are business men, and we would ask them how they would like their businesses to be shut down for months on end and, at the same time, be required to find appreciable sums of money.