'Act now', Transaction and Transport Association tell the Prime Minister
29th May 2008
Page 7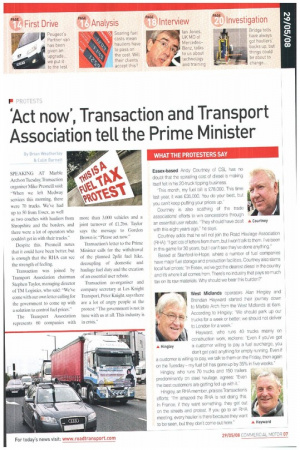 Page 7, 29th May 2008 —
'Act now', Transaction and Transport Association tell the Prime Minister
Close
By Brian Weathertev & Cohn Barnett
SPEAKING AT Marble Arch on Tuesday, Transaction organiser Mike Presneill said: "When we left Medway services this morning, there were 70 trucks. We've had up to 50 from Essex, as well as two coaches with hauliers from Shropshire and the borders, and there were a lot of operators who couldn't get in with their trucks.
Despite this. Presneill notes that it could have been better, but is enough that the RHA can see the strength of feeling.
Transaction was joined by Transport Association chairman Stephen Taylor, managing director of TM Logistics, who said: "We've come with our own letter calling for the government to come up with a solution to control fuel prices."
The Transport Association represents 60 companies with more than 3,000 vehicles and a joint turnover of £1,2bn. Taylor says the message to Gordon Brown is: "Please act now."
Transaction's letter to the Prime Minister calls for the withdrawal of the planned 2p/lit fuel hike. decoupling of domestic and haulage fuel duty and the creation of an essential user rebate.
Transaction co-organiser and company secretary at Les Knight Transport, Peter Knight, says there are a lot of angry people at the protest: "The government is not in tune with us at all. This industry is in crisis."