Paccar Financial is a primary source of funding for operators
29th May 2008
Page 52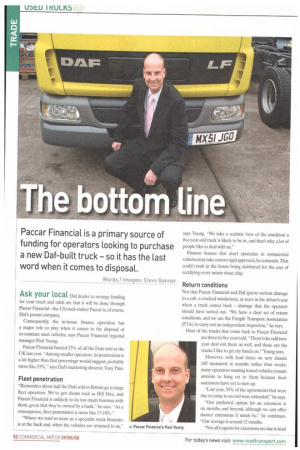 Page 53
Page 52, 29th May 2008 —
Paccar Financial is a primary source of funding for operators
Close
looking to purchase a new Daf-built truck so it has the last word when it comes to disposal.
Words / images: Steve Banner
Ask your local Daf dealer to arrange funding for your truck and odds are that it will be done through Paccar Financial — the US truck-maker Paccar is, of course. Daf's parent company.
Consequently, the in-house finance operation has a major role to play when it comes to the disposal of ex-contract used vehicles, says Paccar Financial regional manager Paul Young.
Paccar Financial funded 23% of all the Dais sold in the UK last year. "Among smaller operators, its penetration is a lot higher than that percentage would suggest; probably more like 33% ," says Daf's marketing director, Tony Pain.
Fleet penetration
"Remember about half the Dais sold in Britain go to large fleet operators. We've got clients such as Hill Hire, and Paccar Financial is unlikely to do too much business with them, given that they're owned by a bank," he says. "As a consequence, fleet penetration is more like 17-18%."
"Where we tend to score as a specialist truck financier is at the back end, when the vehicles are returned to us," says Young. "We take a realistic view of the condition a five-year-old truck is likely to be in, and that's why a lot of people like to deal with us."
Finance houses that don't specialise in commercial vehicles may take a more rigid approach, he contends. That could result in the lessee being clobbered for the cost of rectifying every minor stone chip.
Return conditions
Not that Paccar Financial and Daf ignore serious damage to a cab, a cracked windscreen, or tears in the driver's seat when a truck comes back — damage that the operator should have sorted out. "We have a clear set of return conditions, and we use the Freight Transport Association (FTA) to carry out an independent inspection," he says.
Most of the trucks that come back to Paccar Financial are three to five years old. "There's the odd twoyear deal out there as well, and those are the trucks I like to get my hands on," Young says.
However, with lead times on new chassis still measured in months rather than weeks, many operators running leased vehicles remain anxious to hang on to them because their successors have yet to turn up.
"Last year, 50% of the agreements that were due to come to an end were extended," he says.
"Our preferred option for an extension is six months and beyond, although we can offer shorter extensions if needs be," he continues. "Our average is around 12 months.
"Not all requests for extensions are due to lead times, though. Customers often simply forget that vehicles are due to go back, believe it or not."
More extensions mean fewer used trucks available for sale. "Last year, we sold just over 800, compared with our more usual 1,500-1,800," Young says.
Once they are sent back, Paccar Financial disposes of them rapidly. "We don't want to hold on to them for more than three weeks," he says.
"What we don't want are fields full of used vehicles," adds Pain.
Disposal routes
Around 70% of the returns end up in the hands of Daf dealers. "That's despite the fact that some of them complain we're too expensive," Young remarks.
"The others are disposed of through a variety of sources," he continues. "Some go through selected independent dealers if, for example, they've got specialised equipment."
Older, high-mileage trucks may also go to independent dealers this time destined for export.
"They may end up in places such as Sri Lanka and Mauritius," he says. "There's a big overseas demand for Dais."
Guaranteed buy-back deals remain available on new vehicles, but less than 10% of customers want them, says Young -a reflection, he believes, on Daf's strong residual values.
"A lot of finance companies are more than happy to take their own risk on Dais," he says.
"Even where guaranteed buy-backs are offered, if the used market is buoyant, the customer will often hang on to the truck and dispose of it himself because he reckons he'll make more money that way" says Pain.
"Remember that a guaranteed buy-back is more like an insurance policy than a market valuation. It's there in case things go wrong." •