RUNNING COOL: OWNER-DRIVER MITCH BAYLISS
29th May 2008
Page 42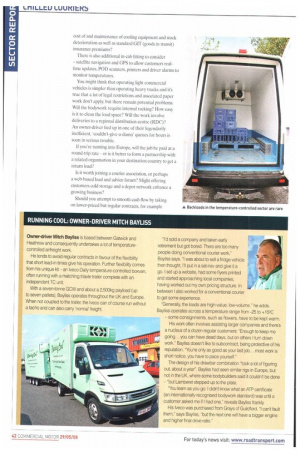 Page 42, 29th May 2008 —
RUNNING COOL: OWNER-DRIVER MITCH BAYLISS
Close
Keywords :
Owner-driver Mitch Bayliss is based between Gatwick and Heathrow and consequently undertakes a lot of temperaturecontrolled airfreight work.
He tends to avoid regular contracts in favour of the flexibility that short lead-in times give his operation. Further flexibility comes from his unique kit -an lveco Daily temperature-controlled boxvan, often running with a matching triaxle trailer complete with an independent TC unit.
With a seven-tonne GCW and about a 2,500kg payload (up to seven pallets), Bayliss operates throughout the UK and Europe. When not coupled to the trailer, the lveco can of course run without a tacho and can also carry 'normal' freight.
"I'd sold a company and taken early retirement but got bored. There are too many people doing conventional courier work," Bayliss says. "I was about to sell a fridge vehicle then thought, I'll put in a sat-nay and give it a go. I set up a website, had some flyers printed and started approaching local companies, having worked out my own pricing structure. In between I also worked for a conventional courier to get some experience.
"Generally, the loads are high-value, low-volume," he adds. Bayliss operates across a temperature range from -25 to +15 some consignments, such as flowers, have to be kept warm.
His work often involves assisting larger companies and there's a nucleus of a dozen regular customers: "Enough to keep me going... you can have dead days, but on others I turn down work." Bayliss doesn't like to subcontract, being protective of his reputation. "You're only as good as your last job... most work is short notice, you have to pace yourself."
The design of his drawbar combination "took a lot of figuring out, about a year". Bayliss had seen similar rigs in Europe, but not in the UK, where some bodybuilders said it couldn't be done "but Lamberet stepped up to the plate.
"You learn as you go. I didn't know what an ATP certificate (an internationally recognised bodywork standard) was until a customer asked me if I had one," reveals Bayliss frankly.
His lveco was purchased from Grays of Guildford. "I can't fault them," says Bayliss, -but the next one will have a bigger engine and higher final drive ratio."