Number crunching
29th May 2008
Page 18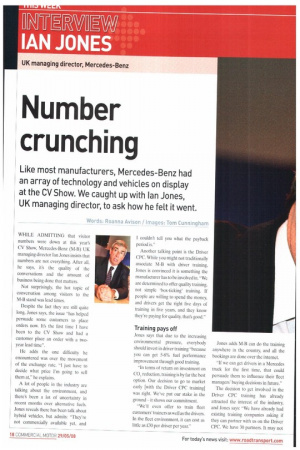 Page 19
Page 18, 29th May 2008 —
Number crunching
Close
Like most manufacturers, Mercedes-Benz had an array of technology and vehicles on display at the CV Show. We caught up with Ian Jones, UK managing director, to ask how he felt it went.
Words: Hoonna Avtson / images: Tom Cunningham WHILE ADMITTING that visitor numbers were down at this year's CV Show, Mercedes-Benz (M-B) UK managing director Ian Jones insists that numbers are not everything. After all, he says, it's the quality of the conversations and the amount of business being done that matters.
Not surprisingly, the hot topic of conversation among visitors to the M-B stand was lead times.
Despite the fact they are still quite long, Jones says, the issue "has helped persuade some customers to place orders now. It's the first time I have been to the CV Show and had a customer place an order with a twoyear lead time".
He adds the one difficulty he encountered was over the movement of the exchange rate. "I just have to decide what price I'm going to sell them at," he explains.
A lot of people in the industry are talking about the environment, and there's been a lot of uncertainty in recent months over alternative fuels. Jones reveals there has been talk about hybrid vehicles, but admits: "They're not commercially available yet, and I couldn't tell you what the payback period is."
Another talking point is the Driver CPC. While you might not traditionally associate M-B with driver training, Jones is convinced it is something the manufacturer has to be involved in. "We are determined to offer quality training, not simple 'box-ticking' training. If people are willing to spend the money, and drivers get the right five days of training in five years, and they know they're paying for quality, that's good."
Training pays off
Jones says that due to the increasing environmental pressure, everybody should invest in driver training -because you can get 5-8% fuel performance improvement through good training.
"In terms of return on investment on CO2 reduction, training is by far the best option. Our decision to go to market early [with the Driver CPC training] was right. We've put our stake in the ground it shows our commitment.
"We'll even offer to train fleet customers' trainers as well as the drivers. In the fleet environment, it can cost as little as £30 per driver per year." Jones adds M-B can do the training anywhere in the country, and all the bookings are done over the internet.
"If we can get drivers in a Mercedes truck for the first time, that could persuade them to influence their fleet managers' buying decisions in future."
The decision to get involved in the Driver CPC training has already attracted the interest of the industry, and Jones says: "We have already had existing training companies asking if they can partner with us on the Driver CPC. We have 30 partners. It may not appear like there's much payback, but if I can get 100,000 drivers into an M-B product as part of their training, that could have big benefits for us."
Van business
Of course, M-B's commercial vehicle stable isn't just focused solely on heavy trucks. Jones says the manufacturer's vans business is going from strength to strength.
He explains: "The eco-start engine is generating a lot of interest. It shuts down the engine when the vehicle is stationary for more than eight to 10 seconds. The radio and everything else stays running. But when you press the accelerator, off you go again.
"It can deliver a 5% to 15% fuel saving in city driving, but will make very little difference in non-urban driving."
While this does sounds like an attractive proposition, Jones admits the biggest problem M-B faces is that the very people who will derive the most benefit from it are already driving in city environments. They have moved to automatic gearboxes for the self same reason, but the eco-start option is only available on a manual gearbox.
Keyless entry is another idea that grabbed the attention of CV Show visitors. With this technology, the side door of the van will shut and lock when drivers walk away with the fob in their pocket and reopen when they return.
It's been a good show for M-B, Jones concludes, despite the reduced number of visitors. •
FO PI THE LATEST NEWS VISIT:
u/ww.raadtransaort.tann tat