P LETTER OF THE WEEK
29th May 2008
Page 17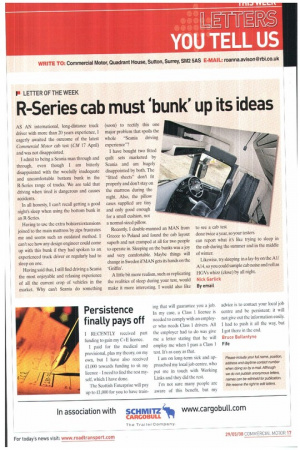 Page 17, 29th May 2008 —
P LETTER OF THE WEEK
Close
R-Series cab must 'bunk up its ideas
AS AN international, long-distance truck driver with more than 20 years experience, I eagerly awaited the outcome of the latest Commercial Motor cab test (CM 17 April) and was not disappointed.
I admit to being a Scania man through and through, even though I am bitterly disappointed with the woefully inadequate and uncomfortable bottom bunk in the R-Series range of trucks. We are told that driving when tired is dangerous and causes accidents.
In all honesty, I can't recall getting a good night's sleep when using the bottom bunk in an R-Series.
Having to use the extra bolsters/extensions joined to the main mattress by zips frustrates me and seems such an outdated method. I can't see how any design engineer could come up with this bunk if they had spoken to an experienced truck driver or regularly had to sleep on one.
Having said that, I still find driving a Scania the most enjoyable and relaxing experience of all the current crop of vehicles in the market. Why can't Scania do something (soon) to rectify this one major problem that spoils the whole "Scania driving experience"?
I have bought two fitted quilt sets marketed by Scania and am hugely disappointed by both. The "fitted sheets" don't fit properly and don't stay on the mattress during the night. Also, the pillow cases supplied are tiny and only good enough for a small cushion, not a normal-sized pillow.
Recently, I double-manned an MAN from Greece to Poland and found the cab layout superb and not cramped at all for two people to operate in. Sleeping on the bunks was a joy and very comfortable. Maybe things will change in Sweden if MAN gets its hands on the 'Griffin'.
A little bit more realism, such as replicating the realities of sleep during your test, would make it more interesting. I would also like to see a cab test done twice a year, so your testers can report what it's like trying to sleep in the cab during the summer and in the middle of winter.
Likewise, try sleeping in a lay-by on the All A14, so you could sample cab noise and roll as HGVs whizz (close) by all night.
Nick Garlick By email