Operating Aspects of
29th March 1932
Page 56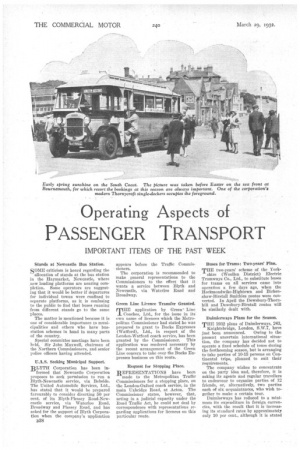 Page 57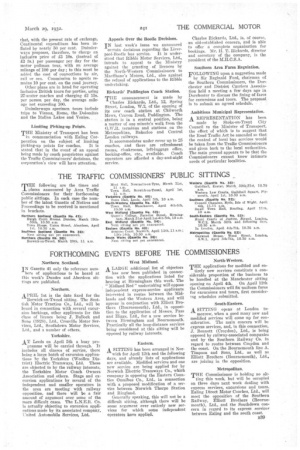 Page 56, 29th March 1932 —
Operating Aspects of
Close
PASSENGER TRANSPORT
IMPORTANT ITEMS OF THE PAST WEEK
Stands at Newcastle Bus Station.
SOME criticism is heard regarding the
allocation of stands at the bus station in the Haymarket, Newcastle, where new loading platforms are nearing completion. Some operators are suggesting that it would be better if departures for individual towns were confined to separate platforms, as it is confusing to the public to find that buses running from different stands go to the same places.
The matter is mentioned because it is one of considerable importance to municipalities and others who have busstation schemes in hand in many parts of the country.
Special committee meetings have been held, Sir John Maxwell, chairman of the Northern Commissioners, and senior police officers having attended.
U.A.S. Seeking Municipal Support.
BLYTH Corporation has been in
formed that Newcastle Corporation proposes to seek permission to run a Blyth-Newcastle service, via Bebside. The United Automobile Services, Ltd., has stated that it would be prepared favourably to consider diverting 50 per cent. of its Blyth-Plessey Road-Newcastle. service, via Waterloo Road, Broadway and Ple,Rsey Road, and has asked for the support of Blyth Corporation when the company's application 838 appears before the Traffic Commissioners.
The corporation is recommended to make general representations to the Commissioners to the effect that it wants a service between Blyth and Newcastle, Via Waterloo Road and Broadway.
Green Line Licence Transfer Granted.
TEE application by Green"' Line Coaches, Ltd" for the issue in its own name of licences which the Metropolitan Commissioner had stated he was prepared to grant to Bucks Expresses (Watford), Ltd., in respect of the London-Watford coach service, has been granted by the Commissioner. This application was rendered necessary by the recent arrangement of the Green Line concern to take over the Bucks Expresses business on this route.
Request for Stopping Plate.
REPRESENTATIONS have been made to the Metropolitan Traffic Commissioners for a stopping place, on the London-Oxford coach service, in the main Uxbridge Road, at Acton. The Commissioner states, however, that, acting in a judicial capacity under the Road Traffic Act, be could not deal by correspondence with representations regarding applications for licences on this particular route.
Buses for Trams: Two-years Plan.
THE two-years' scheme of the York
shire (Woollen District) Electric Tramways Co" Ltd., to substitute buses for trams on all services came into operation a few days ago, when the Heckmondwike-Hightown and Birkenshaw-Birstall Smithies routes were converted. In April the Dewsbury-Thornhill and Dewsbury-Birstall routes will be similarly dealt with.
Daimlerways Plans for the Season.
THE 1932 plans of Daimlerways, 243, Knightsbridge, London, S.W.7, have just been announced. Owing to the present uncertain international situation, the company has decided not to operate a fixed schedule of tours during tho forthcoming season, but is arranging to take parties of 10-15 persons on Continental trips, planned to suit their requirements.
The company wishes to concentrate on the party idea and, therefore, it is asking its agents and regular travellers to endeavour to organize parties of 12 friends, or, alternatively, two parties each of six acquaintances, who wish together to make a certain tour.
Daintlerways has reduced to a minimum its expenditure in foreign currencies, with the result that it is increasing its standard rates by approximately only 10 per cent., although it is stated that, with the present rate of exchange, Continental expenditure has been inflated by nearly 50 per cent. Daimlerways proposes, therefore, to charge an inclusive price of £3 10s. (instead of £3 38.) per passenger per day for the motor pullman tour, with an average mileage of 100 per day ; to this must be added the cost of connections by air, rail or sea. Commission to agents remains 10 per cent. on the road journey.
Other plans are in hand for operating inclusive British tours for parties, using 27-seater coaches and charging £2 15s. per person per day, the average mileage not exceeding 100.
Daimlerways specimen tours include trips to Vienna, Rome, the Dolomites and the Italian Lakes and Venice.
Limiting Picking-up Points.
THE Ministry of Transport has been in communeiation with Ealing Corporation on the subject of limiting
picking-up points for coaches. It is stated that iu the event of an appeal being made by coach proprietors against the Traffic Commissioners' decisions, the corporation's view will have attention.
Appeals Over the Bootle Decisions.
IN last week's issue we announced certain decisions regarding the Liver pool-Bootle bus service. It is understood that Ribble Motor Services, Ltd., intends to appeal to the Ministry against the granting of licences by the North-Western Commissioners to MaeShane's Motors, Ltd., also against the refusal of applications to the Ribble undertaking.
Rickards' Paddington Coach Station.
THE announcement is made by Charles Rickards, Ltd., 12, Spring Street, London, W.2, of the opening of its new coach station at Chilworth Mews, Craven Road, Paddington. The station is in a central position, being a matter of one minute's walk from the G.W.11. terminus and stations on the Metropolitan, Bakerloo and Central London railways. It accommodates under cover up to 25 coaches, and there are refreshment rooms, cloakrooms, left-luggage office, booking-office, etc., available, Coach operators are afforded a day-and-night service.
Charles Rickards, Ltd., is, of course, an old-established concern, and is able to offer a complete organization for bookings. Mr. H. T. Rickards, director and secretary of the company, is the president of the M.H.C.S.A.
Southern Area Fares Regulation.
FOLLOWING upon a suggestion made by Sir Reginald Ford, chairman of the Southern Commissioners, the Dorchester and District Carriers Association held a meeting a few days ago in Dorchester to discuss the fixing of fares for excursions and tours. The proposal is to submit an agreed schedule.
Ambitious Municipal Representation.
A REPRESENTATION has been
made by Stoke-on-Trent City Council to the Minister of Transport, the effect of which is to suggest that the Road Traffic Act be amended so that the control of local bus services would be taken from the Traffic Commissioners and given back to the local authorities. The main ground appears to be that the Commissioners cannot know intimate needs of particular localities.