Square Pegs in Round Holes.
29th March 1917
Page 11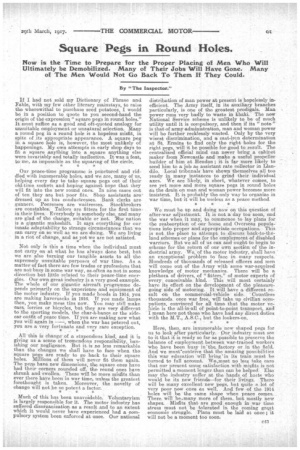 Page 11, 29th March 1917 —
Square Pegs in Round Holes.
Close
Now is the Time to Prepare for the Proper Placing of Men Who Will Ultimately be Demobilized. Many of Their Jobs Will Have Gone. Many of The Men Would Not Go Back To Them If They Could.
By "The Inspector."
If I had not , sold my Dictionary of Phrase and Fable, with my few other literary mainstays, to raise the wherewithal to purchase seed potatoes, I would be in a position to. quote to you Isecond-hand the origin of the-expression " square pegs, in round holes." It must suffice as a good and oft-qUoted analogy for unsuitable employment or unzaturall selection. Many a round peg in a round hole is a h'opeless misfit, in spite of its appropriate appearance. A square peg in a square hole is, however, the Most unlikely of happening& My own attempts in early shop days to fit a square anything into a squal.e anything else were invariably and totally ineffectirie. It was a feat, to me, as impossible as the squaring of the circle.
Our peace-time programme is pufictured and riddled with innumerable holes, and we are, many of us, helping every day to take squaee pegs out of their old-time sockets and hoping against hope that they will fit into the new round one-s. In nine eases Out of ten they are but poor fits. Shop assistants are dressed up as bus conductresses. Bank clerks are gunners. Peeresses are waitresses, Stockbrokers are oonstables. Tailors are fitters for the first time in their lives. Everybody is somebody else, and many are glad of the change, suitable or hot. We nation is a gigantic makeshift. It says etlerything for our innate adaptability to strange eireminstanees that we can carry on so well as we are doing. We are living in a riot of change, and as yet we are not satiated.
Not only is this a time when the individual must not carry on at what he has always done best, but we are also turning our tangible assets to all the supremely unsuitable purposes of war time. As a matter of fact there are few trades or professions that are not busy in some war way, ae,often as. not in some direction but little related to their peace-time energies. Our own great industry is a very good example. The whole of our gigantic aircraft programme depends primarily on the experience and equipment of the motor industry. If you made hoods in. 1914, you are making haversacks in 1910. If you made lamps then, you make mess tins now.. You may still make ears, lorries or bicycles, but they are very diffeeent to the sporting models, the char-k-banes or the sidecar outfit of peace time. If you are making now what you will again in —, when the war has petered out, you are a very fortunate and very rare exception. * All this is change of a stupendous kind, and it is Filling us a sense of tremendous responsibility, banishing Our negligence. But it is no less remarkable than the changes we shall have to face when the square pegs are ready to go back to their square holes. Millions of them will never fit them again. The peas have new dimensions, the square ones have had their corners rounded off, the round ones have shrunk and swollen.There will be more misfits than ever there have been in war time unless the greatest forethought is taken. Moreover, the novelty of change will not be so potent a factor.
Much of this has been unavoidable. Voluntaryism is largely responsible for it. The motor industry has suffered disorganization. as a result and to an extent which it would never have experienced had a compulsory system been enforced at once. Our national
disitribotion of man power at present is hopelessly inefficient. The Army itself, in its auxiliary branches particularly, is one of the greatest prodigals. Man power runs very badly to waste in khaki. The now National Service scheme is unlikely to be of much utility until it is compulsory, and then if its "note" is that of army administration, man and woman power will be further recklessly wasted. Only by the very wisest discrimination, and a cost-ircn determination at St. Er3tains to find only the right holes for the right pegs, will it be possible for good to result. The centralized official mind can never bring a cabinet maker from Newcastle and make a useful propeller builder of him at Hendon ; it is far more likely to send him to a job i as assistant rate collector in Lionduo. Local tribunals have shown themselves all too ready in many instances to grind their individual axes. We are likely, in short, whatever comes, to see yet more and more square pegs in round holes as the drain on man arid woman power becomes more insistent It is probably the only way to organize in war time, but it will be useless as a peace method.
We must be up and doing no on this question of after-war adjustment. It is not a day too soon, end the war when it may, to commence to lay plans for the rea,bsorption of our home and Overseas populations into proper and appropriate occupations. This is not the place to attempt to discuss back-to-theland schemes or plans for the employment of disabled warriors. But we all of us can and might to begin to scheme for the return of our own section of the industrial army. -We, oE the motor industry, shall have an exceptional problem to face in many respects. Hundreds of thousands of released officers and men will come out of the Army with some war-acquired knowledge of motor mechanics. There will he a plethora of drivers, of "fitters," of motor experts of every, conceivable kind. This will most certainly have its effect on the development of the pleasuregoing side of motoring. It will have a different result on the commercial-vehicle side. ' Countless thousands, once war free, will take up civilian occupations, convinced for all time that the motor yehide is the all-in-all of point-to-point transport, and I mean here not those who have had any direct duties with the M.T., A.S.C., but the lookers-on.
Here, then, are innumerable new shaped pegs for us to look after particularly. pur industry must see to it that if is ready so far as possible to preserve the balance of employment between war-trained workers who have been busy in'the, factory or in the field. And we must'contrive that the amazing possibilities this war education will bring 'in its train must be turned to full account Weeniest no less fake care that our present smug satisfaction with misfits is not permitted a moment longer than can be helped Else may the industry suffer at the hands of hosts who would be its new friends—for their livings. There will be many excellent new pegs, but quite a lot of very poor new one's as well. And few of the 1914
holes will be the same shape when peace comes. There will beomany more of them, but mostly new shapes. Misfits that are good enough in wax time stress must not be tolerated in the coming great economic struggle. Plans must be laid at once ; will not be a moment too soon.