Cash trap in Dover delays
29th July 1977
Page 5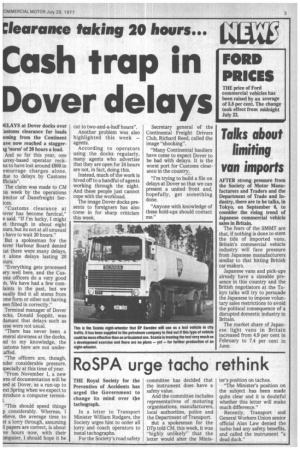 Page 5, 29th July 1977 —
Cash trap in Dover delays
Close
IELAYS at Dover docks over :ustoms clearance for loads oming from the Continent ave now reached a staggerig 'norm' of 20 hours a load. And so far this year, one urrey-based operator reckns to have lost around E800 in emurrage charges alone, due to delays by Customs fficials".
The claim was made to CM iis week by the operations irector of Danefreight Serices.
"Customs clearance at lover has become farcical," e said. "If I'm lucky, I might et through in about eight ours, but its not at all unusual 3 have to wait 20 hours."
But a spokesman for the lover Harbour Board denied lat there were many delays, alone delays lasting 20 ours.
"Everything gets processed ery well here, and the Cus3rns officers do a very good )b. We have had a few cornlaints in the past, but we sually find it all stems from Dme form or other not having een filled in correctly."
Terminal manager of Dover ocks, Donald Soppitt, was damant that delays such as lese were not usual.
"There has never been a eneral slowness at the docks, nd to my knowledge, the 'ustoms here are not under:affed.
"The officers are, though, nder considerable pressure, specially at this time of year. "From November 1, a new )rm of documentation will be sed at Dover, as a run-up to ext Spring when we expect to itroduce a computer terminI.
"This should speed things p considerably. Whereas, I elieve, the average time to et a lorry through, assuming II papers are correct, is about ve hours now, with their omputer, I should hope it be cut to two-and-a-half hours".
Another problem was also highlighted this week — agents.
According to operators using the docks regularly, many agents who advertise that they are open for 24 hours are not, in fact, doing this.
Instead, much of the work is hived off to a handful of agents working through the night. And these people just cannot cope with the workload.
The image Dover docks presents to foreigners has also come in for sharp criticism this week. Secretary general of the Continental Freight Drivers Club, Richard Reed, called the image "shocking".
"Many Continental hauliers have come to expect Dover to be bad with delays. It is the worst port for Customs clearance in the country.
"I'm trying to build a file on delays at Dover so that we can present a united front and; hopefully, get something done.
"Anyone with knowledge of these hold-ups should contact me."