Proposal of marriage...
29th July 1977
Page 41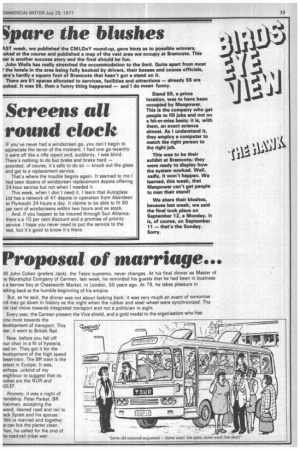 Page 41, 29th July 1977 —
Proposal of marriage...
Close
;IR John Cohen (prefers Jack), the Tesco supremo, never changes. At his final dinner as Master of le Worshipful Company of Carmen, last week, he reminded his guests that he had been in business $ a barrow boy at Chastworth Market, in London, 50 years ago. At 79, he takes pleasure in )oking back at the humble beginning of his empire.
But, as he said, the dinner was not about looking back; it was very much an event of tomorrow ,nd may go down in history as the night when the rubber and steel wheel were synchronized. The rst real move towards integrated transport and not a politician in sight.
Every year, the Carmen present the Viva shield, and a gold medal to the organisation who has one most towards the levelopment of transport. This rear, it went to British Rail.
Now, before you fall off 'our chair in a fit of hysteria, ead on. They got it for the levelopment of the high speed liesel-train. The BR train is the astest in Europe. It was, )erhaps, unkind of my leighbour to suggest that its rakes are the NUR and SLEF.
Anyway, it was a night Of riendship. Peter Parker, BR :hairman, accepting the ;ward, likened road and rail to lack Spratt and his spouse: 'We're married and together ie can lick the platter clean.-hen, he called for the end of he road-rail tribal war.