Perkins share in research on crankshafts
29th July 1977
Page 21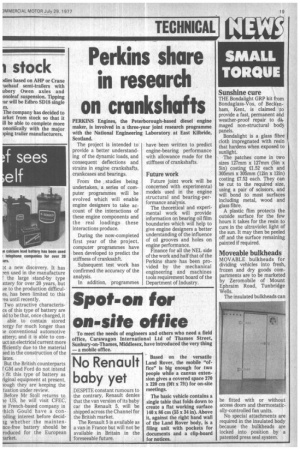 Page 21, 29th July 1977 —
Perkins share in research on crankshafts
Close
PERKINS Engines, the Peterborough-based diesel engine maker, is involved in a three-year joint research programme with the National Engineering Laboratory at East Kilbride, Scotland.
The project is intended to provide a better understanding of the dynamic loads, and consequent deflections and strains in engine crankshafts, crankcases and bearings.
From the studies being undertaken, a series of computer programmes will be evolved which will enable engine designers to take account of the interactions of these engine components and the real loadings these interactions produce.
During the now-completed first year of the project, computer programmes have been developed to predict the stiffness of cranksahft.
Subsequent test work has confirmed the accuracy of the analysis.
In addition, programmes have been written to predict engine-bearing performance with allowance made for the stiffness of crankshafts.
Future work
Future joint work will be concerned with experimental models used in the engine structural and bearing-performance analysis.
The theoretical and experimental work will provide information on bearing oil film boundaries which will help to give engine designers a better understanding of the influence of oil grooves and holes on engine performance.
Finance for all the NEL side of the work and half that of the Perkins share has been provided by the mechanical engineering and machines tools requirement board of the Department of Industry.