fine for operator
29th July 1977
Page 17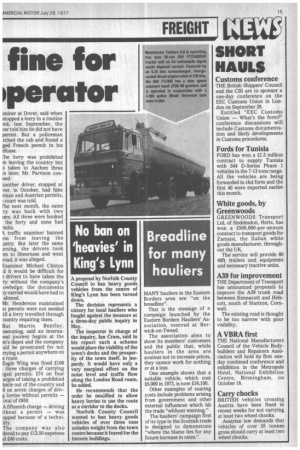 Page 17, 29th July 1977 —
fine for operator
Close
Keywords :
iminer at Dover, said when stopped a lorry in a routine ?ck, last September, the ver told him he did not have permit. But a policeman rched the cab and found a ged French permit in his efcase.
he lorry was prohibited m leaving the country but s taken to Aachen three is later, Mr. Parrison conued..
nother driver, stopped at ver, in October, had fake rman and Austrian permits, court was told.
Me next month, the same ry was back with two kers. All three were booked the ferry and none had -mits.
k traffic examiner banned em from leaving the intry. But later the same n-ning, the drivers took !.m to Sheerness and went road, it was alleged.
Examiner Michael Clinton it would be difficult for e drivers to have taken the Ty without the company's owledge: the documents ey carried would have had to altered.
Mr. Henderson maintained at permits were not needed .til a lorry travelled through :ountry requiring them.
But Martin Bentley, 3secuting, said an interna ■ nal journey begins at the m's depot and the company uld be prosecuted for not rrying a permit anywhere on e route.
Eagle Wing was fined £100 , three charges of carrying rged permits; £74 on four arges of taking a prohibited hide out of the country and 0 on seven charges of drivg lorries without permits — ,otal of £950.
A fifteenth charge — driving ithout a permit — was opped because of a technility.
The company was also dered to pay £12.50 expenses id £40 costs.