Congestion Choking Leicester Services
29th July 1955
Page 40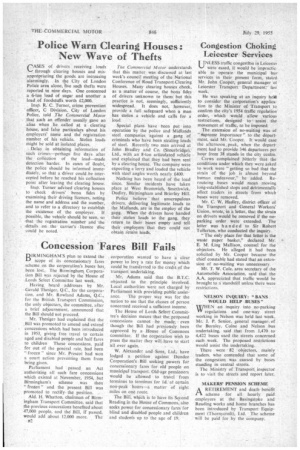 Page 40, 29th July 1955 —
Congestion Choking Leicester Services
Close
UNLESS traffic congesteon in Leicestei were eased, it would be impractic• able to operate the municipal buF• services in their present 'form, stated Mr. John Cooper, general manager of Leicester Transport Department: last week.
He was speaking at an inquiry heltd to consider the corporation's application to the Minister of Transport to confirm the city's 1954 traffic regulation order, which would allow various restrictions, designed• to assist the movement of traffic, tolae imposed.
The extension of no-waiting was ot "supreme importance tothe department. said Mr. Cooper. It would ease the afternoon_ peak, when the department had to provide 346 departures per hour from 38 stands in the city centre.
Crews complained bitterly that the conditions under which they were asked to work were "getting so bad that the strain of the job is almost beyond human endeavour," he added. Rerouteing buses would mean moving long-established stops and detrimentally affect traders in streets from which buses were removed.
Mr. C. W. Hadley. district officer of the Transport and General Workers' Union, wrote, in a letter, that the strain on drivers would he removed if the noparking order were extended. The letter was handed to Sir Robert Tollerton, who conducted the inquiry.
"The only place for that letter is the waste paper basket," declared Mr. E. M. ling Mattison, counsel for the objectors. He alleged it had been solicited by Mr. Cooper because the chief constable had stated that an extension of no-waiting was unnecessary.
Mr. T. W. Cole, area secretary of the Automobile Association, said that the A.A. appreciated that traffic would be brought to a standstill unless there were restrictions.
NELSON INQUIRY: "BANS WOULD HELP BUSES " WHEN an inquiry into no-parking YV regulations and one-way street working in Nelson was held last week, Mr. J. P. Senior, general manager, of the Burnley, Colne and Nelson bus undertaking. said that from 1,470 to 4,422 buses used the streets concerned each week. The proposed restrictions would assist the undertaking.
There were 82 objectors, mainly traders. who contended that some of the congestion was caused by buses standing in central streets.
The Ministry of Transport inspector is to visit the streets and report later.
MAKERS' PENSION SCHEME
ARETIREMENT and death benefit scheme for all hourly paid employees at the Basingstoke and Reading works and home branches has been introduced by Transport Equipment (Thornycroft), Ltd. The scheme will be paid for by the company.