Concession Fares Bill Fails
29th July 1955
Page 40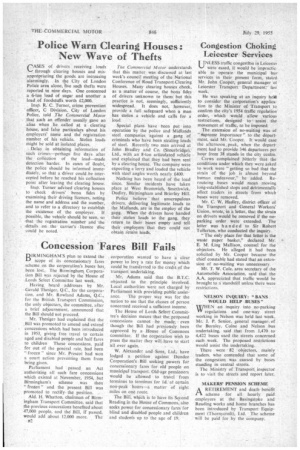 Page 40, 29th July 1955 —
Concession Fares Bill Fails
Close
BIRMINGHANCS plan to extend the scope of its concessionary fares scheme on the corporation's buses has been lost. The Birmingham. Corporation Bill was rejected by the House of Lords Select Committee last week.
Having heard addresses by Mr. Gerald Thesiger. Q.C., for the corporation, and Mr. Rowland Adams, Q.C., for the British Transport Commission, the only objectors, the committee, after a brief adjournment, announced that the Bill should not proceed.
Mr. Thesiger had explained that the .Bill was promoted to amend and extend concessions which had been introduced in 1953, giving free travel to certain aged and disabled people and half fares to children Those concessions, paid for out of the general rate, had been " frozen " since Mr. Prescot had won a court action preventing them from being given, Parliament had passed an Act authorizing all such fare concessions which existed at November, 1954, but Birmingham's scheme was then " frozen " and the present Bill was promoted to rectify the position.
Aid. H. Whatton, chairman of Birmingham Transport Committee, said that the previous concessions benefited about 47,000 people, and the Bill, if passed, would add about 12.000 more. The B2 corporation wanted to have a clear power to levy a rate for money which could be transferred to the credit of the transport undertaking.
Mr. Adams said that the B.T.C. objected to the. principle involved. Local authorities were not charged by Parliament with providing public assist ance. The proper way was for the nation to see that the classes of person concerned received a sufficient income.
The House of Lords Select Committee's decision means that the..proposed concessions cannot be made, • even though the Bill had previously been approved by a House of Commons committee. If the corporation wish to press the matter they will have to start all over again. • W. Alexander and Sons, Ltd.. have lodged a petition against Dundee Corporation's Bill seeking powers for concessionary fares for old people on municipal transport. Old-age pensioners would be allowed to travel from terminus to terminus for Id. at certain non-peak hours—a matter of eight miles on one route.
The Bill, which is to have its Second Reading in the House of Commons, also seeks power for concessionary fares for blind and disabled people and children and students up to the age of 19.