ONE HEARS
29th July 1919
Page 3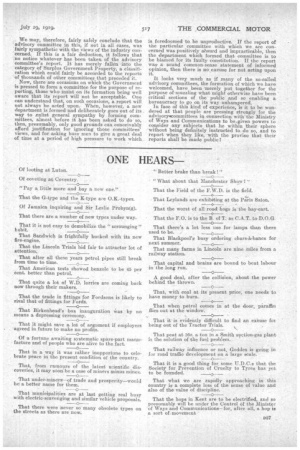 Page 3, 29th July 1919 —
ONE HEARS
Close
Of looting at Luton.
Of coveting at Coventry.
"Pay a little more and buy a new one."
That the G-type and the K-type are O.K.-types.
Of Jamaica inquiring and Sir Leslie Phbyn(g).
That there are a number of new types under way.
That it is not easy to demobilize the " scrounging" habit.
That Sandwich is frightfully bucked with its new fire-engine.
That the Lincoln Trials bid fair to attractor lot of attention, 0 That after all these years petrol pipes still break from time to time.
That American tests showed benzole to be 45 per cent, better than petrol.
That quite a lot of W.D. lorries are coming back now through their makers.
That the trade in fittings for Fordsons is likely to rival that of fittings for Fords.
That Birkenhead's bus inauguration was by no means a depressing ceremony.
That it might save a la of argument if employers agreed in future to make no Profits.
Of a fortune awaiting systematic spare-part manufacture and of people who are alive to the fact.
That in a way it was rather inopportune to celebrate peace in the present condition of the country.
That, from rumours of the latest scientific discoveries, it may saOn be a case of miners minus mines.
—0 That under-miners—of trade and prosperity—would be a better name for them.
That municipalities are at last getting real busy with electric-scavenging and similar vehicle proposals.
' That there were never so many obsolete types on the streets as there are now. " Better brake than break !"
' " What about that Manchester Show ? "
That the Field of the F.W.D. is the field.
That Leylands are exhibiting at the Pais Salon. That the worst of all roa,c1 bogs is the hay-cart.
That the F.O. is to the B. of T. as C.A.T. to D.O.G.
That there's a lot less use for lamps than there used to be.
That Blackpool's busy ordering chars-a-banes for next summer. 0 That many farms in Lincoln are nine miles from a railway station.
That capital and brains are bound to beat labour in the long run.
A good deal, after the collision, about the power behind the thrown.
That, with coat at its present price, one needs to have money to burn.
That when petrol comes in at the door, paraffin flies out at the window.
That it is evidently difficult to find an exeuse for being out of the Tractor Trials.
That peat at 16s. a ton in a Smith suction-gas plant is the solution of the fuel problem.
That railway influence or not, Geddes is going in for road traffic development on a large scale.
That it is a good thing for some T.I.D.C.s that the Society for Prevention of Cruelty to Tyres has yet to be founded.
That what We are rapidly approaching in this . country is a complete loss of the sense of value and also of the value of discipline.
That the hops in Kent are to be electrified, and so presumably will be under the Control of. the Minister of Ways and Communications—for, after all, a hop is a sort of•movement