AGENTS AND THE COMMERCIAL VEHICLE.
29th July 1919
Page 14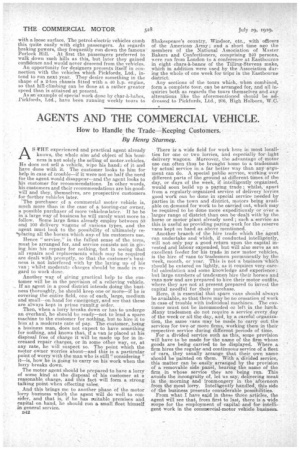 Page 14, 29th July 1919 —
AGENTS AND THE COMMERCIAL VEHICLE.
Close
How to Handle the Trade—Keeping Customers.
By Henry Sturmey.
S ?HE experienced and practical agent already knows, the whole aim and object of his busi: . ness is not solely the selling of motor-vehicles. He does not sell a vehicle, Wipe his hand.; of it and have done with it. The customer looks to him for help in case of trouble--if it were not so half the need for the agent would disappear—and the agent looks to his customer for recommendations. In other words, his customers and their recommendations are his goodwill and they, themselves, are prospective customers for further vehicle S later.
The purchaser of a commercial motor vehicle is, much more than in the case of a, touring-car owner, a possible purchaser of more vehiclesslater. If he be in a large way of business he will surely want more to follow. Some large firms already employ between 50 and 100 delivery wagons of various types, and the agent must look to the possibility of ultimately res
laeing all the horses which any. of his customers use.
Hence "service," in the fullest sense of the term, must be arranged for, and service consists not in giving him his repairs for nothing, Pbut in seeing that all repairs and replacements which may be required are dealt with promptly, so that the customer's business is not interfered with by the laying up of his van ; whilst moderate charges should be made in regar ii to work done.
Another way i of giving practical help to the customer will be n the provision of a relieving vehicle. If an agent in a good district intends doing the business thoroughly, he should keep one or more—if he is covering the entire field, one of each, large, medium and small—on hand for emergency, and see that these are always kept in prime running order. Then, when a lorry breaks down or has to undergo an Overhaul, he should be ready—not to lend a spare machine to the customer for nothing, but to hire it to him' at a moderate rate of pay. The customer, ,being a bulginess man, does not expect to have something for nothing, and knows that, if a van is placed at his disposal free of charge it will be. made up for in increased repair charges, or in some other way, or, at any rate, he will suspect so. The point which the motor owner worries about—and this is a particular point of worry with the man who is still " considering" it—is, how he is going to carry on his work when the lorry breaks down.
The motor agent should be prepared-to have a lorry of some kind at the disposal of his customer at a reasonable charge, and this fact will form a strong talking point when effecting sales..
And this brings me to another phase of the motor lorry business which the agent will do well to consider, and that is, if he has suitable premises and, capital on hand, he should run a small fleet himself in general service.
1142
There is a wide field for werk here in most localities for one or two lorries, find especially for light delivery wagons. Moreover, the advantage of motor use can often thus be brought' home to a tradesman by actual service in a far better way than any argument can do. A special public service, working over different parts of the ground at different timesOf the day, or days of the week, if intelligently organized, would soon build up a paying trade ; whilst, apart from a regularly-organized service of delivery lorries good wotk can be done in special service needed by parties in the town and district, motors being available on demand for work to be carried out, which may be required to be done more expeditiously or over a larger range of district than can be 'dealt with. by the horse or motor plant already used ; such a service as this is useful as providing paying work for the reserve vans kept on hand as above mentioned. Another branch of the hire trade which the agent can undertake and which, if conducted intelligently, will not only pay a good return upon the capital invested and labour expended, but will also serve as an excellent feeder for his trade in new motor vehicles, is the hire of vans to-tradesmen permanently by. the week, month, or year. This is not a business -whieh should be entered on lightly, as it requires very careful calculation and some knowledge and experience ; but large numbers of tradesmen hire their horses and vans now and are prepared to hire their motor outfits, where they are not at present prepared to invest the capital needful for their purchase.
Here, it is essential that spare vans should always be available, so that there may be no cessation of work in case of trouble with individual machines. The customer must not be incommoded or left in the lurch. ,Many tradesmen do not require a service every day of the week or all the day, and, by a careful organization, the same vans may be made to carry out, the services for two or more firms, working them in their respective service during different periods of time.
For a divided service such as this, SOD1.0 provision will have to be made for the name of the firm whose goods are being carried to be displayed. Where a firm hires the regular-and continuous service of a fleet of cars, they usually arrange that their own name should be'painted on them. With a divided service, this matter can be easily, arranged by the provision of a removable side .panel, bearing the name of the firm in whose service they are being run. This avoids the incongruity of, let us say, delivering meat in the 'morning and ironmongery in the afternoon from the meat lorry. Intelligently handled, this side of the business presents considerable possibilities.
From what I have said in these three articles, the agent will see that, from first to last, there is a wide scope for the employment of capital and for intelligent work in the commercial-motor vehicle business.