WHAT WILL THE RAILWAYS DO?
29th January 1929
Page 15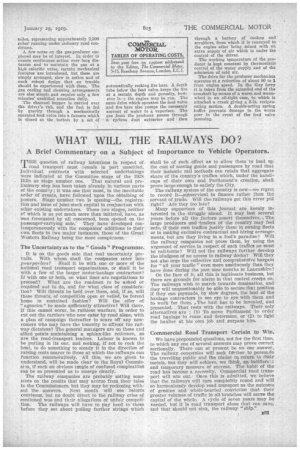 Page 15, 29th January 1929 —
WHAT WILL THE RAILWAYS DO?
Close
A Brief Commentary on a Subject of Importance to Vehicle Operators.
THEquestion of railway intentions in respect of road transport must remain in part unsettled. in d iv idual contracts with selected undertakings were indicated at the Committee stage of the 1928 Bills as stage number one. That natural and preliminary step has been taken already in various parts of the country; it was one that must, in the inevitable order of events, have followed upon the obtaining of powers. Stage number two is opening—the registration and issue of joint-stock capital in conjunction with other existing undertakers. These two stages, neither of which is as yet much more than initiated, have, as was forecasted by all concerned, been opened on the passenger-carrying side: They have developed contemporaneously with the companies' additions to their c,wn fleets in two major instances, those of the Great Western Railway being the more conspicuous.
The Uncertainty as to the " Goods " Programme.
It is on the goods side that real uncertainty prevails. With whom shall the companies enter into vourparler87 Shall it be with one or more of the national road transport organizations, or shall it be with a few of the larger motor-haulage contractors? If with one or both, on what lines are negotiations to proceed? What are the madmen to be asked or required not to do, and for what class of consideration? Will threats be held over them, and, if so, will these threats, of competition open or veiled, be forced home in sustained fashion? Will the offer of " agencies " be made sufficiently attractive? Will there, if this cannot occur, be ruthless warfare, in order to cut out the carriers who now cater by road alone, with a plan of campaign thereafter to scare off any newcomers who may have the temerity to affront the railway dictators? The general managers are on these znd allied points maintaining a sphinx-like reticence, as are the road-transport leaders. Labour is known to be putting in its oar, and seeking, if not to rock the boat, to do something to steady it in the direction of raising costs nearer to those at which the rarlwaYs can function remunetatively. All this, we are given to understand, will be made clear to the Royal Commisshm, if such an obvious tangle of confused complexitieS can be so presented as to emerge dearly.
The railway companies are probably setting some store on the results that may accrue from their tales to the Commissioners, but they may be reckoning.vvithout the answers. Next month Will see retorts • courteous, but no doubt direct to the railway cries of Continued woe and thcir allegations of unfair competition. The railways will have to Pay heed to these before they set about pulling further strings Which shall be of such effect as to allow them to load up the cost of moving goods and passengers by road that their inelastic rail methods can retain that aggregate share of the country's traffics which, under the handicaps of their own and Parliament's creation, shall prove large enough to satisfy the City.
The railway system of the country is now—we regret to record it—subservient to finance rather than the
• servant of trade. Will the railways get this error put right? Are they too late?
Many supporters of this journal are keenly interested in the struggle ahead. It may last several years before all the factors assert themselves. \ The large producers and 'traders of the country may feel safe, if their own traffics justify them in owning fleets or in making exclusive contractual and hiring arrangements, but are they living in a fool's paradise? Will the railway companies not press them, by using the argument of service in respect of such traffics as must be rail-borne? Will not the railways further develop the bludgeon of no access to railway docks? Will they not also urge the collective and comprehensive bargain for "all your traffic " even more assiduously than they have done during the past nine months in Lancashire?
On the face of it, all this is legitimate business, but there are grounds for alarm in that control creeps on. The railways wish to march towards domination, and they will unquestionably be able to secure that position if they can persuade, by slow degrees, the best of the haulage contractors to see, eye to eye with them and to work for them. , The bait has to be invented, and presented. That rests with the railways. Their only alternatives are : (I) To move Parliament to order road haulage to cease and determine, or (2) to fight the haulier at his own job and surpass him.
Commercial Road Transport Certain to Win.
We have propounded questions, not for the first time, to which any one_ of several answers may prove correct sectionally. There can at present be no one answer. The railway companies will seek fIrther to persuade the travelling public and the ttader to return to their metals, but they will achieve, we think, an indifferc-It and temporary measure of success. The habit of the road has become a necessity. Commercial road transport will win out. Once this is admitted, we believe that the railways will turn completely round and will so harmoniously develop road transport as the outcome of genuine and whole-hearted conviction that their greater volumes of traffic in all branches will serve the capital of the whcle. A cycle of seven years may be needed, but 'Cis road transport alone that can save, and that should 'not sink, the railway " ship."