• I have been employed in road haulage for over
29th December 1967
Page 40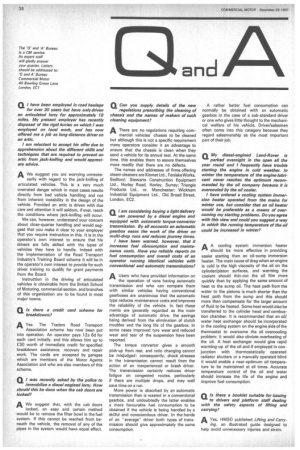 Page 40, 29th December 1967 —
• I have been employed in road haulage for over
Close
20 years but have only driven an articulated lorry for approximately 18 miles. My present employer has recently disposed of the rigid lorries on which I was employed on local work, and has now offered me a job as long-distance driver on an attic.
I am reluctant to accept his offer due to apprehension about the different skills and techniques that are required to prevent an attic from jack-knifing and would appreciate advice.
AWe suggest you are worrying unneces
sarily with regard to the jack-knifing of articulated vehicles. This is a very much overrated danger which in most cases results directly from bad vehicle handling and not from inherent instability in the design of the vehicle. Provided an artic is driven with due care and attention it will seldom, if ever, reach the conditions where jack-knifing will occur.
We can, however, understand your concern about close-quarter handling and would suggest that you make it clear to your employer that you require instruction in this. It is in the operator's own interest to ensure that his drivers are fully skilled with the types of vehicles they have to handle. Indeed with the implementation of the Road Transport Industry's Training Board scheme it will be in the operator's own interest to provide for such driver training to qualify for grant payments from the Board.
Instruction in the driving of articulated vehicles is obtainable from the British School of Motoring, commercial section, and branches of this organization are to be found in most major towns.